The Linear axis is a core building block in the Automation and precision metrology. We present new developments to you here various companies before, their functions and areas of application. Find out how you can generate advantages in your design with these linear axes.
Contents
Sep 25.09.2023, 120 | The Lxs Shuttle linear motor axes FXNUMX from Jenny Science were designed for travel distances of up to 1600 mm. They are characterized by a recessed Linear motor and are only 45 mm high. The integrated new motor is more powerful with a nominal force of 120 N and peak force of up to 300 N. More robust guides absorb high moments of force from transverse cantilever axes. The single cable solution simplifies installation and maintenance. The absolute measuring system no longer needs a reference run, which makes operation more efficient.

07.06.2021 | IEF Werner has expanded the standard range of linear drives to include a version with a metal band cover. The metal band protects the linear drive on one side from the ingress of dirt or particles. On the other hand, it prevents particles from being released into the environment. This makes such a linear drive suitable for use in clean rooms according to ISO 14644-1 from classes 1 to 8.
The requirements for the cleanliness of linear units have increased significantly in recent years - especially in the pharmaceutical industry and Medical Technology. "Depending on the application, we have so far been able to implement cleanroom suitability between ISO class 6 and 8 with our axes," explains Thomas Hettich, Product Manager at IEF-Werner GmbH. "In order to significantly improve this, we have equipped selected linear units from our range with a metal strip cover in order to be able to cover the largest possible range of applications."
Received the metal strip cover of the spindle drive Profiline 70 MB, the Timing beltsdrives Modul 65/15 MB and 115/42 MB as well as the direct drives Euroline 140 and 200. The metal band cover of the linear drives consist of corrosion-resistant steel. They have a smooth, easy-to-clean surface. A magnetic strip holds the cover in place. It is clamped to the end plate or the deflection heads. The metal band can be easily exchanged without having to dismantle any functionally relevant components.
"The cover encapsulates the linear drive. That is why hardly any particles get into the axis, nor does it emit significant particles into the environment, "explains Mr. Hettich. This means that these linear drives can now also be used in clean rooms ISO 14644-1 from grades 1 to 8 and after GMP Standard for pharmaceutical and medical technology. The Fraunhofer Institute for Manufacturing Engineering and Automation (IPA) has checked this and certified it in accordance with DIN EN ISO 14644-1. "The linear axes are also suitable for painting lines or dusty environments or for all applications in which moving parts have to be covered," explains the product manager.
Single drives become multi-axis systems
So that the user can not only build in single linear axes, IEF-Werner brought the Profiline 70 MB as well as the modules 65/15 MB and 115/42 MB onto the market at the same time. Several electric axes can be used Multi-axis systems put together with metal band cover.
The automation specialist also has an optional drive for each drive described here Extraction the end. The module is available with several connection options. "This allows us to suck off particles from the linear axis and blow fresh air into it as sealing air to prevent dust from penetrating. This is a good example for painting lines, "describes the IEF expert. The suction is easy to handle, requires little power and the user can also use it for a three-axis system.
The spindle drive Profiline 70MB achieves clean room class 0,2 without suction at a speed of 6 m / s. With suction, the drive meets the requirements of ISO class 1 at the same speed a speed of 115 m / s up to ISO class 42 - with extraction up to class 65.

July 13.07.2020, XNUMX | Direct drives are suitable for use in dynamic and precise handling and assembly work. They are compact, fast, positioning precise and repeatable. IEF Werner has now added a variant to its proven Euroline series Euro line 140 expanded. The compact electric linear actuator offers a stroke of up to 3,75 m and a maximum speed of 5 m / s.
---
Lifting column | Ergonomic height adjustment
---
The different versions of the linear drives are particularly suitable for dynamic and precise applications. For example, a Euroline linear drive can be used. B. Use in handling and assembly technology or in semiconductor and electronics manufacturing. The new Euroline 140 linear drive moves small and medium-sized handling weights of up to 30 kg.
Linear drive for precise use in measuring systems
The actuator is extremely quiet, fast and precisely positioned and therefore ideally suited for use in Measuring systems. The direct drive is encapsulated by its flexible metal strip cover. This largely prevents the ingress of dirt and the release of particles.
The linear drive works not only in dirty but also in very clean environments as reliably as in the clean room or in the pharmaceutical industry. With the Euroline 140, several independent carriages can be attached to one guide to save space. The linear unit is very well suited for setting up a multi-axis positioning system, for example with the Euroline 200 linear drive.
The smallest stroke of the linear drive is 10 mm and extends in 48 mm steps up to a maximum of 3754 mm. The maximum speed is 5 m / s with a repeat accuracy of ± 0,005 mm. The peak power of the drive is 420 N. The Euroline 140 can absorb torques of up to 200 Nm on the slide.
All components such as the linear motor and position measuring system are integrated into the linear unit. This means that the customer receives their ready-to-install system Pick+place Applications. The installation of the compact linear unit requires little effort in construction and assembly and requires little space.
06.05.2020 | Rollon offers for the Packaging automation a comprehensive range of linear actuators and linear guides. These linear components ensure efficient solution concepts for handling in packaging systems, palletizers and picker lines.
Whether industrial goods, food or pharmaceuticals, the linear technology specialist creates technically and economically optimal products in cooperation with system integrators, machine manufacturers and partners Automation concepts.
These are individually designed and precisely tailored for machines, systems and robots in the industry. The linear axes Thanks to their high performance, resilience and precision, the Actuator Line is suitable for use in pick-and-place automation and packaging machines.
These also include the Timing belts driven axles of the smart system. These linear units have self-supporting extruded aluminum profiles. These enable high load ratings, travel speeds, a long service life and achieve high cycle rates in the packaging machines with low weight.
The timing belt-driven components are therefore predestined for the construction of Multi-axis systems in packaging processes. For use in clean environments such as the food and pharmaceutical industries, special linear axes are available that are particularly easy to clean and meet the highest hygienic standards.
They can also be used to implement very long Y-axes with large spans with little deflection. They are for him Continuous use in packaging technology and environments with abrasive dust designed.
04.09.2019 | Hiwin now adds the HC series cantilever axis for vertical applications to the HM linear modules with square cross-section and the HT linear tables with integrated double guide. The cantilever axis HC is with an Omega Timing beltsequipped with a drive that is compactly integrated in the drive block.
The Drive block with motor and gearbox is stationary on this axis while the light boom moves. Thanks to the sophisticated structure of the aluminum profile, the boom has high torsional rigidity despite its low weight and is therefore suitable for dynamic applications.
Through the use of high-quality linear guideways inside the axis, the compact linear axes achieve high power density and very good performance.
A variety of options that are already available as standard, such as pneumatic clamping element, limit switch, position measuring system or drive adaptation for all common motors as well as the stroke that can be freely selected in millimeter increments make the HC cantilever axis an individually configurable all-rounder. The configuration is particularly user-friendly with just a few clicks in the in-house configurator.
22.01.2018/XNUMX/XNUMX | The specially protected linear axes from the "Plus System" product family Rollon are suitable as a basis for multi-axis systems, Cartesian axis robots or the linear movement of Scara robots. They can be used in a wide range of environmental conditions in production lines, handling and packaging applications.
The Plus System consists of the three product series "ELM", "Robot" and "SC", whose properties complement each other very well. All Plus System linear guides have a self-supporting frame made of extruded anodized aluminum. The drive is carried out by a steel-reinforced timing belt.
The series includes robust linear axes that are characterized by load capacity, torque control, speed and acceleration very high performance offer. For applications in harsh environments or with frequent contact with water, all linear axes of the Plus system are available as corrosion-protected versions with durable stainless steel elements. An extensive range of high-quality accessories makes the Plus System a real modular linear technology system.
The versatile ELM series offers four sizes from 50 to 110 mm profile width. The precise movement of the carriage is carried out by linear guides or by an optional Roller system. The ELM series has a very good seal against contamination: a cover belt made of polyurethane protects the belt drive and that linear guidesystem completely from dust, dirt, foreign objects, liquids and other contaminants. The components used for the linear movement, such as the lubricant reservoir, linear guide carriage and double lip seals, make the system low-maintenance.
---
Miniature stepper motor positioned in the tightest of spaces
---
The linear axes of the Robot series are suitable for applications with high load ratings, where the carriage is subjected to strong forces or for linear movements of complete Scara robots that are to be used in production lines. The series is robust and offers high load ratings. The linear units are available in four sizes from 100 mm to 220 mm profile size, upon request also as version 2C with two independent carriages.
The linear axes of the SC series were specifically designed for use as Vertical axes designed for gantry construction or for applications where the aluminum profile moves while the carriage is stationary. They are available in three sizes with 65, 130 and 160 mm profile widths. The SC series is designed for high load ratings and fast duty cycles. Their special design allows them to be used with the compatible linear axes Robotseries without the need for adapter plates.
Sep 22.09.2016, 27 | The lubricant-free miniature linear axis "Drylin SLN-XNUMX" is small, light and flat Igus. In combination with the "Ddryspin" steep threads, in addition to simple handling tasks, lightning-fast sensor adjustments can also be carried out stepper motor or DC motor at a good price/performance ratio.
The Miniature linear axis is particularly suitable for delivery movements with low weight. The compact unit can be used for sensor adjustments and light handling tasks in device and laboratory technology. It is based on the miniature sliding guide "Drylin N" with a rail width of 27 mm.
The materials used and the design make the guide rail a cost-effective and flexible sliding guide system. It is made of sturdy, anodized aluminum. With its compact dimensions, 22 mm high and 28 mm wide, it is suitable Linear unit SLN-27 especially for confined spaces. Because of the plasticbearings The system is completely lubricant and maintenance-free in the spindle bearings and guide carriages.

"At Motek we are presenting the miniature linear axis in combination with our new Dryspin high-helix threads. "The Drylin SLN-27 is not only small, light and flat, but also fast with strokes of 25 millimeters per revolution," says Stefan Niermann, Head of the Drylin Linear and Drive Technology division at Igus GmbH. This makes the miniature linear axis also suitable for quick handling and positioning tasks. The spindles can also be fitted with ball bearings for dynamic movement profiles and low-backlash running. The effective tilting play of the guide carriage can be adjusted using four adjusting screws.
---
Efficient linear guide with lubrication status monitoring
---
Feed is via a spindle with a diameter of 6,35 mm. The five lead variants 0,8, 2,54, 5,08, 12,7 and 25,4 mm of the high helix thread are available. With a basic weight of only 60 g, the linear axis is one of the lightweights of the driven linear guide systems. Even with the maximum stroke length of 250 mm, the miniature actuator only weighs 160 g Scales. Is the axis in combination with a NEMA 11-Stepper motor supplied, the external dimensions are still a compact 28 x 28 mm.
The portfolio also includes DC motors with or without radial kit. Alternatively, other motors can also be connected quickly and easily via a motor flange. The entire kit of Drylin SLN-27 miniature axes includes three different carriage variants - from the inexpensive entry-level model to slides with manual play and height adjustment to the precisely adjustable carriage with preload function - as well as five different inclines and three motor variants.
01.02.2016/XNUMX/XNUMX | For high-speed positioning of small to medium loads Hiwin A new generation of LMV linear motor axes has been developed: Thanks to the compact design, the significant reduction in moving masses and the use of the latest linear motors from the LMSA series, the highly dynamic axes offer the same performance in horizontal and vertical positioning applications.
An extremely space-saving, wear-free weight compensation with magnetic constant force spring ensures optimal dynamic properties when positioned vertically. In addition, the integrated QEProfile rail guides with Synch Motion technology Freedom of play, best synchronization properties with minimal noise and significantly longer relubrication intervals. Thanks to their high acceleration and travel speed, the high-speed linear motor axes achieve the shortest cycle times.

The ready-to-connect units are distinguished by their high power density and their compact design with maximum mechanical stability compared to conventional positioning modules. For easy positioning, an absolute displacement measuring system is used, especially for the vertical use of the linear motor axis.
20.10.2015/XNUMX/XNUMX | the Rollon With its linear axes for the heavy-duty sector from the "Tecline" product family, the group opens up many possibilities for the efficient handling and intralogistics of heavy workpieces. The versatile modular system is particularly interesting for Automotive industry, logistics processes, machine tools and feeding devices for production machines for the production of "white goods".
30.10.2014 | IEF Werner The Euroline series has direct drives in its range that work extremely quickly and precisely. Because the units integrate a linear motor, a position measuring system and a guide, the user receives a system that is easy to install. Several independent carriages can be attached to a guide and thus space-saving systems can be constructed
With different Slide variants and stroke sizes, the user can use this series for various tasks. If there are high demands on compactness, dynamics, speed as well as positioning and repeat accuracy, direct drives clearly show their advantages. They are mainly used in handling and assembly technology as well as in semiconductor and electronics production. Due to their high accuracy, they are also often used for measuring and testing tasks.
Overview of linear drive variants
The versions of the Euroline series are suitable for dynamic and highly precise applications. The Euroline 32 KLA version is equipped with an ironless linear motor and an optical, incremental position measuring system. With its good responsiveness, it is suitable for fast movements and runs extremely quietly. The speed is up to 5 m / s, the repeat accuracy ± 0,003 mm. The peak force of this linear unit is 132 N. Strokes of up to 1662 mm are available. It is also available as a vertically operated version with a stroke of up to 189 mm.
---
Wear-free spindle nut made of plastic for heavy loads
---
Types 120 and 170 come with a iron core linear motor and an optical absolute value measuring system. This makes referencing superfluous. Due to the higher feed forces of up to 800 N, they are also suitable for higher loads. By using a guide carriage with ball chain and attachment lubrication elements, a mileage of 10.000 km is achieved without relubrication.
The Euroline 120 Standard has one Stroke up to 3714 mm, the repeat accuracy is ± 0,005 mm and the speed up to 5 m / s. It can also be equipped with a long slide. The stroke extends up to 3616 mm with this version. The Euroline 170 is also available as a standard version and with a long slide. Depending on the version, the speed is up to 4 m / s. The strokes go up to 3275 mm.
04.09.2013 | RK Rose+Warrior shows the product family of "Duoline" timing belt axes, recently completed with size 60. The spindle and toothed belt driven linear axes are now available in four sizes: 60, 80, 120 and 160. The spindle-driven axes are available with a trapezoidal screw drive or for applications that require the highest precision Ball Screw available.
The Duoline with ball screw drive is equipped with a rotating spindle support, which ensures greater smoothness even at high speeds and extends the service life of the axis. The timing belt-driven units score points with a variable motor connection and thus with a subsequently changeable configuration of the motor connection in terms of position and Clutchstyp.
The latter relies on the comparatively high drive rigidity Duoline especially in dynamic applications. Both drive types are available in the Protect version (protection class IP40) with a steel band cover and as a Duoline Safelock with the integrated Safelock holding system. The safety system holds gravity-loaded linear units in a vertical or inclined arrangement absolutely reliably and permanently prevents the vertical axis from dropping unintentionally throughout all life cycles linear guide.
13.09.2011 | Physik Instrumente "PI Line" uses ultrasonic drives in its positioning systems and is therefore able to produce particularly compact and dynamic adjustment units. The company is now presenting a drive solution that can be easily integrated into OEM applications by customers themselves. The new linear drive "U-264 Rod Drive" was designed for travels of 50 to 150 mm, speeds of up to 250 mm/s or driving forces of up to 15 N.
They're in Rod Drive Piezo actuators already connected to the output, so that only a guide and, if necessary, a measuring system need to be coupled on the integration side. The Rod Drive is a direct linear drive. The piezoceramic PI Line linear motors have high holding forces that are above the actuating forces, even without power. This means they avoid any heat development when stationary.
In contrast to motor-spindle combinations, which generate the linear movement through the mechanical transmission of the rotary movement of the motor, the Rod Drive on mechanical components such as Gears, Transmission or spindles in favor of size, reliability and speed. Analogue controllable driver electronics generate the electrical voltages for operating the piezo motors.
The drive is suitable, for example, for moving shutters, sorters, pipettes, measuring probes, etc. The Rod Drive can also be used to implement precise positioning systems in an accuracy class from a few micrometers to less than a micrometer.
Aug 22.08.2011, XNUMX | With the electric toothed belt axis ELGG from Festo Two carriages are synchronized with just one toothed belt - and driven by just one motor. Multiple tasks in one operation are no problem for the fast axis. The optional center support provides additional torsional rigidity. This makes the drive also suitable for particularly long strokes.
The electric toothed belt axis ELGG centers, separates, separates and spreads quickly and energy-efficiently. It opens doors every second and reliably carries out various gripping tasks. The toothed belt axis is suitable for small parts assembly, the photovoltaic and flat panel industry, special and packaging machines as well as handling, transport and conveyor technology.

The simple and flexible design saves weight and therefore energy, reduces maintenance costs and installation effort. There is also a comprehensive range of accessories with versatile fastening elements, sensors and axial kits for Festo step and Servomotoren. In addition, the ELGG offers a Lifespan of 5000 km.
---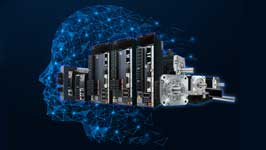 Servo motor and servo amplifier predictively maintained with AI
---
The ELGG is designed using the software Positioning Drives. Drive packages in stepper motor and servo technology tailored to the axes guarantee quick selection and correct dimensioning. The carriages are moved with low wear either via a ball or sliding guide. Commissioning can be done quickly and conveniently with the FCT configuration tool.
IEF Werner In this basic webinar, we show how positioning systems can become more flexible, simpler and more powerful. Among other things, the structure and function of the individual linear drive types are presented and applications are presented.
Source: This article is based on information from the following companies: Festo, Hiwin, IEF-Werner, Igus, Jenny-Science, Physics Instruments, Rollon.
You might also be interested in...