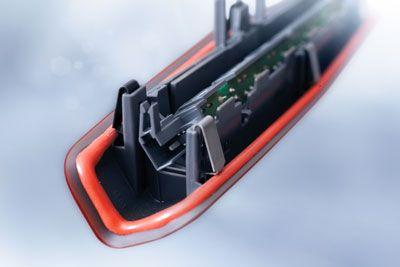 K Hall 7a, Booth B26-03
technical articles
The developer and manufacturer of customized plastic systems based on polyurethane, epoxy and silicone Rampf Polymer Solutions presents its high-performance portfolio of "in situ"seals for the automotive and vehicle construction. These are used, inter alia, in brake lights, headlights or ventilation grilles.
In contrast to inserted or directly glued gaskets, in situ gaskets - Formed In Place Gaskets (FIPG) / Formed In Place Foam Gaskets (FIPFG) - are applied with mixing and dosing systems and adhere without additional adhesive tape. The sealing systems adapt optimally to the respective component and lie stress-free in the groove. The chemical properties are tailored to the respective requirements.
The automatic application of the liquid seal without coupling points and bonding results in a reliable and long-term seal, as the non-detachable seal is firmly connected to the component. Other benefits of FIPFG / FIPG technology include accelerated and simplified manufacturing and assembly processes, eliminating investment in tools. In addition, modified components can be flexibly adapted using NC or robot technology. Color, shape and geometry can be designed as desired.
Omnipresent in the vehicle: Polyurethane and silicone seals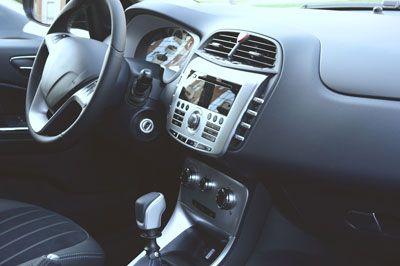 The automotive and automotive industries use FIPFG / FIPG gaskets in a wide range of applications, including door and door lock modules, speaker cabinets, airbag, air conditioning and glove box covers, brake lights, headlamps, rear lights, electrical housings, ignition coil covers, Safety boxes, ventilation grilles and water tanks.
With seals off Polyurethane "Raku PUR" and Silicone "Raku SIL"From Rampf Polymer Solutions, these applications are reliably and long-term protected against moisture, water, dust and chemical influences. In addition, emissions regulations and NVH standards (noise, vibration, harshness) from leading car manufacturers are met.
The manufacturer has developed the "Raku PUR Speed" polyurethane foam sealant, which is tack-free within a few seconds, especially for the ultrafast production chains prevailing in the automotive and automotive industries. This means that components can be processed directly after application of the seal without long curing distances and investments in cost-intensive curing ovens and storage systems can be saved.
"Both our products and services are tailored to the needs of the users. With holistic support from product development to market launch as well as close and trusting cooperation, we make a major contribution to the success of their projects, "said Albert Schmid, Foam Gaskets Key Technology Manager at Rampf Polymer Solutions.
---
This e-mail address is being protected from spambots To display JavaScript must be turned on!
More news from the Rampf Group
The Rampf Group has been awarded the "BFK - Healthy Company" seal of quality for its exemplary behavior and its contribution to promoting the health of its employees. This certification confirms that the company demonstrably implements the topics of occupational safety, psychological risk assessment and DGUV II (accident prevention regulation)

With the new modular microwave technology "Raku Microwave Curing" from Rampf, ultra-fast curing and process times are achieved when mixing and dosing sealing systems, adhesives and potting compounds. The focus is on the thermal activation of one- and two-component plastic systems using microwave radiation.

The quality requirements of Indian producers and consumers have increased significantly in recent years. That is why this year Rampf Production Systems is presenting its powerful mixing and dosing technology for sealing, pouring, gluing and foaming together with its Indian partner Sanika Engineering & Consultancy at the Matdispens in Bombay.

Specialist article Rampf develops tailor-made solutions for the entire production process - from prototype, model, mold and tool construction to production. Liquid resin systems for structural and interior composite materials are new to the portfolio. With the block and liquid materials, first-class model building products can be implemented.

Stama at EMO Hall 12, Stand C06 There are components across industries that, from various points of view, are better not manufactured in a separate process on several specialized machines. Machine frames made of "Epument" mineral casting provide the necessary stability in the MT 733 machining center from Stama. These are manufactured by Rampf Machine Systems with maximum precision and without machining.

K Hall 7a, Booth B26-03 Technical article The developer and manufacturer of tailor-made plastic systems based on polyurethane, epoxy and silicone Rampf Polymer Solutions presents its powerful portfolio of "in-situ" seals for automotive and vehicle construction. These are used, among other things, in brake lights, headlights or ventilation grilles.

Rampf Machine Systems has received an award for its impression technology for mineral cast frames as part of the 2019 Innovation Award from the WIF - Wirtschafts- und Innovationsförderungsgesellschaft Landkreis Göppingen.

Cover story ultra-high performance concrete: Modesty definitely didn't play a role in naming this material. But the name lives up to the properties. This is why the premium concrete newly developed by Rampf Machine Systems with the brand name "Epudur" is the preferred material when it comes to large, heavy machine beds and frame components in highly dynamic mechanical engineering. These are optimized in line with requirements and casting technology and have recently been produced directly at the Wangen site.

Powerful epoxy and polyurethane materials for the core and molding shops were the focus of the appearance of Rampf Tooling Solutions at Gifa 2019. The products of the "Raku Tool" brand are used for the production of first samples and small series as well as in large series production.
load More halt SHIFT to load everything load all