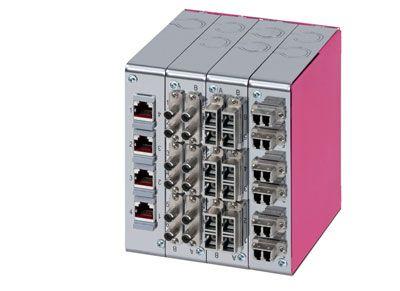 Light + Building Hall 11.0, Stand A03
With the new modular splice box FIMP-XP from Eks Engel Active and passive components can be flexibly connected to the network. 20 offers different modules for fiber optic and twisted pair cables, which can be combined as desired.
The splice box, which can be mounted on a top-hat rail, can be equipped with up to four modules, which, depending on the version, provide ports for SC Duplex, ST Duplex, LC Quattro, E2000 Compact, RJ45 and Sub-D9 plugs - ports for further types are available Inquiry. To easily connect the fiber optic and twisted pair cables, the modules can be removed. In addition, they can be rotated by 180 ° and thus positioned variably. A two-wire feeder allows use in ring or bus topology networks. The housings, which are made of powder-coated metal, are 135 mm high, 127 mm deep and 28 mm or 56 mm wide. Due to the robust design of the modules and a temperature range from -40 ° to + 75 ° C, the splice box can be installed in the control cabinet and also outside.
All optical modules are available for singlemode (9 / 125 μm) and multimode (50 / 125 μm, 62,5 / 125 μm) fibers. They have two permanently installed splice cassettes with a splice tray and one splice comb each, which can be rotated around 360 ° and securely locked. Short hold-downs make it easier to insert the pigtails. In order to fix these and to comply with the corresponding bending radii, additional holes for cable guides are available.
The opening of the cable gland has an elongated shape, so that the glass fibers can be spliced ​​outside the housing and then inserted into the modules. To enable a variable cable feed, there are several punched holes. For splicing, both the front panel and the splice tray, which has a 2 m long pigtail set, can be removed completely. In addition, the cassette can be fixed to a splicer.
---
development scout TV - Statement Fair This e-mail address is being protected from spambots To display JavaScript must be turned on!
More news from EKS Engel
EKS Engel FOS GmbH & Co. KG, Wenden, and Etic Telecom GmbH, Baden-Baden will work together as part of a sales partnership from 2020. Her focus is on holistic Local Aea Network, short LAN and Wide Area Network, short WAN solutions. The products of the two companies complement each other perfectly to offer a common portfolio of LANs and WANs. They are used in factory automation and process automation as well as in the energy sector and transportation.

Light + Building Hall 9.1, Stand A87 EKS Engel shows a new Industrial Ethernet switch e-light-1100-4AC version 16TX / 1FX and 8TX / 1FX. The Gigabit Switch was developed for direct operation with 230 VAC mains voltage. The two versions are thus suitable for. B. for economical solutions for networking electricity meters in households. Unlike classic industrial devices for a 24/48 VDC power supply, the Gigabit Switch does not require any additional voltage converters.

Interview with Christian Gieseler Head of Development, EKS Engel CS GmbH + Co. KG, Wenden

download video

SPS Hall 9, Stand 401 EKS Engel presents the new managed gigabit switch "E-Light-4G-M", which was developed especially for industrial and building automation, intelligent transport systems and smart city applications. Since it is only 30 mm wide, this switch, which supports Profinet and is prepared for TSN, enables a high packing density in the control cabinet and thus reduces operating costs.

With its new version of the "PE-Light" outdoor fiber optic cabling system, EKS Engel enables the networking of IP-compatible devices with gigabit speed and high-power PoE. The system can be installed in metal light poles. The centerpiece is a managed switch that can be managed via a web-based user interface.

Jürgen Stallbommer took over as Head of Marketing from EKS Engel on April 1, 2019. He succeeds Julia Gieseler, who has gone on maternity leave. The 49-year-old, who has many years of experience in the IT industry, reports directly to the management.

SPS IPC Drives Hall 9, Stand 401 EKS Engel presents the compact "E-light 4G" family. It consists of four robust Gigabit switches that support Gigabit Ethernet and are only 30 mm wide. In addition to a device with eight electrical ports (10/100/1000 BASE-TX), three versions with additional optical ports (1000 BASE-FX) are offered SFP modules (Small Form-factor Pluggable) are available.

EKS Engel FOS GmbH & Co. KG has strengthened its sales team with Torsten Schleiwies (picture). The 45-year-old, who has been working in the IT industry since 1992, is responsible for project business in the Northern sales region as Key Account Manager.

Security Hall 6, Stand G90 EKS Engel shows the new outdoor cabling system "Pe-light". It can be used to connect IP-capable end devices such as surveillance cameras, WLAN access points or digital traffic displays via single or multimode fibers over distances of up to 30 km to Ethernet networks.
load More halt SHIFT to load everything load all