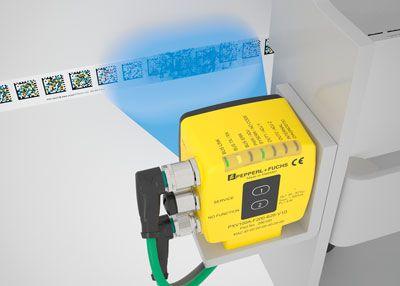 Hannover Messe Hall 9, Stand D76
2D absolute positioning system "PXV" from Pepperl + Fuchs achieves a new performance level in terms of reliability and handling. With its large reading window, it also keeps track of points and jumps in the code band enough codes in the view. Precise positioning is guaranteed at all times.
Six years of experience with the PCV system have gone into the development of the PXV. The reading window of the PXV has been enlarged to 120 x 80 mm. Thus, the data matrix code band always remains within the detection range. Installation and commissioning are easier, the availability of the system is further improved. The read window with enlarged depth of field always captures several codes at the same time and additionally secures the position determination through multiple redundancy.
Unlike other systems available on the market, the PXV only needs one 2D camera for it. Irritation in the area of ​​points is thus excluded. By contrast, the cameras of two-camera systems can each receive different position signals.
In everyday business a certain contamination of the code band is often inevitable. Therefore, the codes for the PXV were increased to 15 x 15 mm at a consistently high resolution. With their coarse grained design they are insensitive to contamination. Thanks to redundant detection, the system can not be disturbed by the destruction of individual codes. The code tape may be interrupted up to a distance of 80 mm without the position detection suffers.
With the "Safe PXV" all this accomplishes a single Positioning system with only one sensor, The security technology combines a 2-D read head with a three-color Data Matrix code tape. The special code band contains two superimposed Data Matrix codes in red and blue. The 2-D read head is equipped with two differently colored LED rings (red and blue). These are activated separately and then only read one Data Matrix code at a time. The result is always a SIL 3 / PLe absolute position.
---