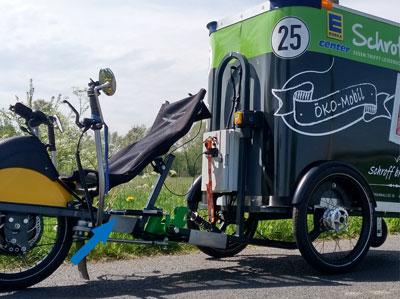 Smart Automatica Austria Hall DC, booth 128
Success Story
Be it drinks, clothes, electrical appliances, the delivery directly to the house is in. This also applies to supermarkets. One of them left the RM Customs GbR build a small series of e-trikes to slow down traffic jams and make a contribution to environmental protection. For more comfort and safe steering are Brake cylinder there ACE Shock GmbH installed.
Delivering goods by vans and trucks poses increasing problems for cities: the growing number of deliveries to the house is creating ever more congested roads. Because next to the actual routes, the parking space search is added. E-cargo bicycles are the greener and faster choice at a delivery radius of 2 km, as in this case.
Cooperation with Edeka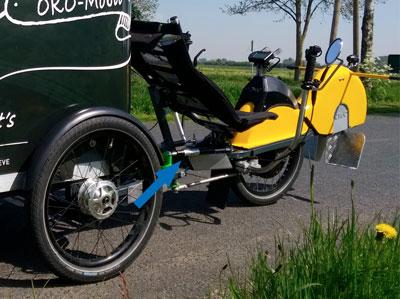 A first cooperation of the company RM Customs from Kleve on the Lower Rhine with the local Edeka Center Schroff confirms this. Custom-built by RM Customs in low-floor construction, the cargo bike can often reach its maximum speed of 45 km / h even on busy roads and, thanks to a small photovoltaic system in direct sunlight, can even reach more than the standard 60 km of range. Thus, despite a storage volume of the equivalent of eight shopping baskets with a maximum total weight of 100 kg, the battery of the load wire must not be recharged after only a few deliveries.
Finally, the eco-bike has a baptized, innovative cargo bike with a front hub motor and has a power of 2,3 kW with a maximum torque of 120 Nm, which are available to the supplier almost directly from a standstill. A consumption of about 2,5 kWh per 100 km corresponds to 0,32 l petrol or 0,25 l diesel. If additional power is supplied by the already mentioned photovoltaic system, the range increases accordingly or it supports the charging process at the socket.
E-trike optimized with hydraulic brake cylinders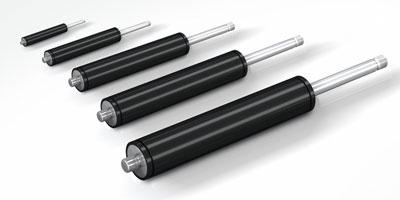 Before co-operating with Edeka, RM Customs had already put a prototype of its e-trike on the road, which reached a speed of 25 km / h. During its development, the problem arose that the whole system rocked in potholes or sudden steering movements and threatened to overturn the vehicle. This was also a complaint of the TÜV. As the development reaches a maximum speed of 45 km / h, the founders of RM Customs, Dr.-Ing. Marcel Rouenhoff and Dipl.-Ing. Markus Mühlberg, fix the restlessness in the suspension.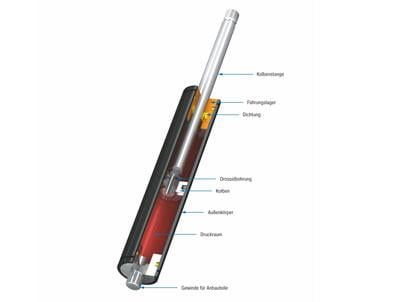 A first trial with industrial gas springs did not meet the requirements. In the second attempt, they turned to the gas spring team of ACE shock absorber GmbH. There, innovative and high-quality gas pressure and gas tension springs are offered. Due to positive experiences with applications in the leisure industry, the engineers of ACE in Langenfeld knew that their hydraulic brake cylinders would also be better suited for the stabilization of vehicles than gas springs. In addition to the automotive sector, industrial applications such as classic mechanical engineering, the electronics and furniture industries and medical technology are typical applications for these design elements. Hydraulic brake cylinders are predestined for the damping of reciprocating masses.
Double-acting brakes
After taking into account all key data, both sides decided to install components of the Type HB-28-100-EE-PT, These hydraulic brake cylinders can be used as two-way or one-way brakes. Their slim-line coated bodies and wear-resistant plunger rods are features of high quality and longevity.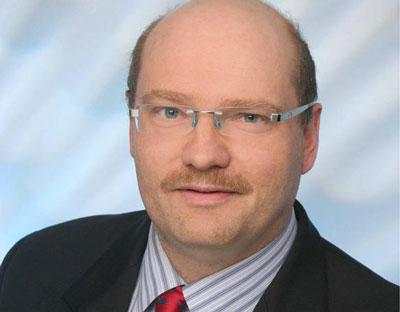 As with all representatives of the HB family, the model used is a maintenance-free, ready-to-install and closed system. The HB-28 is adjustable and, with a diameter of 28 mm and a stroke of 100 mm, provides a variably adjustable pressure or traction force from 30 to 3000 N. A setting segment on the piston makes the easy adjustment possible, with a large selection on attachments additionally facilitates the assembly.
After the solution found with the help of ACE worked well in the first two series of RM Customs e-trikes, the development of the next generation is currently underway. It is worked on even more ride comfort, a larger trunk volume and a higher range. An endeavor that will surely succeed in the ever-increasing demand for e-trikes.
The author is Robert Timmerberg MA, journalist, Plus2 GmbH, Dusseldorf.
---
More news from ACE shock absorbers
User report Safety dampers from ACE shock absorbers helped the Wieland plants optimize their dross sorting system. If metal falls on steel, even massive discharge funnels can be destroyed. Since the effects on the overall design of the sorting system were stronger than previously assumed, the leading specialist in copper processing brought ACE shock absorbers on board. The problem was quickly remedied by installing the Tubus safety damper. As a result, people are happy about much longer maintenance intervals today.

ACE shock absorbers were able to quickly solve a current vibration problem with an online tool: In medical technology, a customer uses a spiral conveyor for pre-sorting, arranging, conveying and providing parts. Vibrations occur during operation, which lead to an unpleasant humming sound.

Robin Hilke wins the "Innovace" ​​student competition organized by ACE shock absorber GmbH for the third time in 2019. He convinced the jury of the award with a successful concept of a stepless door arrester. Robin Hilke receives 5000 euros in prize money for his work.

FMB Hall 20, Booth C34 Cover story The number of online shops and thus the emergence of packages and parcels is increasing. In 2018, there were 330 million deliveries in Germany at Christmas, according to the Federal Association of Parcel and Express Logistics. Sorting systems have to cope with such quantities and especially with peak times. The sorters run at high speeds and must not lose any parcels. The new high-end system from Equinox does this with small shock absorbers from ACE shock absorbers.

Motek Hall 5, Stand 5223 User report Good braking is necessary wherever driving is fast. Nowadays, users of linear drives are offered a wide range of components and system solutions: hydraulic damping elements such as small shock absorbers are suitable for more sophisticated solutions, while cheaper products such as structural dampers perform simpler tasks. There are practically suitable solutions for all applications and every budget, which also allow the fastest processes to run smoothly. This is illustrated by two practical examples from ACE Shock Absorber GmbH.

At the Michigan Speedway International in the USA, the racing team of the University of Stuttgart recently won the overall ranking at Formula SAE for the fourth time in a row. This year, the committed Swabians also took the Energy Management Award from ACE shock absorbers into the country.

ACE shock absorbers are adding viscoelastic shock absorbers to the portfolio for the first time and expanding the range of safety products. These offer long-lasting solutions for a wide variety of emergency stop applications in heavy industry, for example in crane construction and steelworks, in rail traffic, at locks or wind turbines.

Smart Automatica Austria Hall DC, Booth 128 User report Whether drinks, clothing, electrical devices, delivery directly to the house is in. This also applies to supermarkets. One of them had RM Customs GbR build a small series of e-trikes to slow down traffic jams and make a contribution to environmental protection. Brake cylinders from ACE Shock Absorber GmbH are installed for more comfort and safe steering.

ACE Shock Absorber GmbH, Langenfeld, is once again hosting the "Innovace" student competition in 2019. After interesting solutions from some international student teams in previous years, a design draft with technical proof of the function and feasibility of a door arrester for the stepless positioning and holding function of vehicle doors is now expected.
load More halt SHIFT to load everything load all