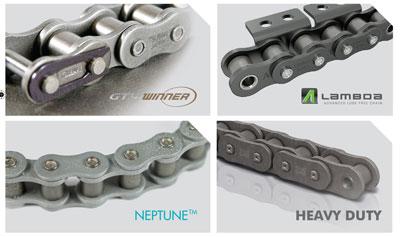 Ligna hall 25, booth A34
Tsubaki presents a wide selection of drive and conveyor chains that have a longer service life than comparable drive elements. The standard roller chain "GT4 Winner" is manufactured to BS / DIN standard and has a high strength and easy handling. The low-maintenance "Lambda" chain in the sixth generation based on the GT4 Winner does not need to be re-lubricated.
A vacuum-saturated sintered bushing ensures a sufficient lubrication film in the chain link. The "Neptune" chain is based on the principle of GT4 Winner. It is suitable for humid environments where higher corrosion protection is required. The "Heavy Duty" chains were chosen for the world's best steel materials and the individual chain components were matched to form a whole range of different heavy-duty chains. Their higher strength and better wear resistance are in demand in the highly loaded drives of the woodworking plants, as the processing of the still raw wood can not be assumed to be homogeneous and quiet processes. In addition, a large number of angle and (special) drive lugs allow almost all customer-specific requirements that are placed on a conveyor chain to be realized.
---
Another contribution of the manufacturer This e-mail address is being protected from spambots To display JavaScript must be turned on!
More news about drive elements
Hannover Messe Hall 5, Stand D32 / 1 Expert knowledge At the moment, the multi-plate clutch is enjoying increasing demand from designers and developers of industrial drive technology against the background of the Ringspann product offensive, which has been running for two years. In the field of shaft couplings, this has led to the addition of numerous new types of couplings to the portfolio. This addresses the correct selection and design of the non-switchable, torsionally rigid shaft couplings at the Hannover Messe 2020.

Hannover Messe Hall 5, Stand E04 Intelligent machine elements provide important measurement data for transparency in the drive train. This is how they support efficient and predictive machine maintenance. At the Hannover Messe 2020, Mayr Antriebstechnik presents intelligent solutions for brake monitoring as well as new approaches for networked clutches. The drive specialist invites visitors to think along the new paths.

Logimat Hall 1, Stand A08; FMB South Stand C7 Habasit offers high-quality toothed belts from the Habasync series with practical mechanical end connections for quick changes. This means that the operating costs of conveyor lines can be reduced through short assembly and maintenance processes, such as when changing timing belts. Endless belts can alternatively be connected to mobile heating presses directly on site. This significantly reduces downtimes when changing a toothed belt.

Case Study A British car manufacturer had a problem with the maintenance of the conveyor chains that power its lanyards. This is used to transport the assembling car body components. The roller chain had to be replaced too often, otherwise it would have caused production to stop. The problem was solved by converting to a special conveyor chain from Tsubaki. To do this, only the TCO costs had to be put in the foreground instead of the purchase price.

KBK Antriebstechnik has developed the KBGK and KBGK-T articulated couplings that connect shafts and components with extremely little play and even compensate for high radial and angular misalignments. They are made from high-quality materials such as aluminum and steel, are torsionally rigid in the circumferential direction and give in to radial forces and angular deviations.

The ball screw or trapezoidal screw is usually not connected to the drive journal of a motor or gearbox in a rigid manner, but via a flexible coupling. This can compensate for misalignments or misalignments and minimize vibrations and shocks in the drive train. Dr. Tretter now offers compact shaft couplings for this.

SPS Hall 3, Booth 419 Rigid couplings of the "Torqmax step bore" series from Orbit Antriebstechnik enable the play-free connection of shafts with different diameters thanks to their graduated bores. For a low mass moment of inertia, the couplings are made of aluminum, additionally anodized to prevent corrosion, and some are also available in stainless steel.

SPS Hall 4, Booth 278 Mayr Drive Technology presents new versions of the "Roba-brake-checker" module, which can now also be used to monitor small brake sizes. This opens up new possibilities for brake monitoring - especially with spring-applied brakes in servomotors and for applications in robotics and automation.

EMO Hall 5, Stand D89 The "Simple-Flex" series from Jakob Antriebstechnik is a new type of spacer coupling that can be manufactured up to a length of 6 m and does not require additional intermediate storage. A sophisticated composite tube with a multi-layer, angle-specific fiber configuration enables a particularly simple design that does not require any coupling compensation elements at the tube ends.
load More halt SHIFT to load everything load all