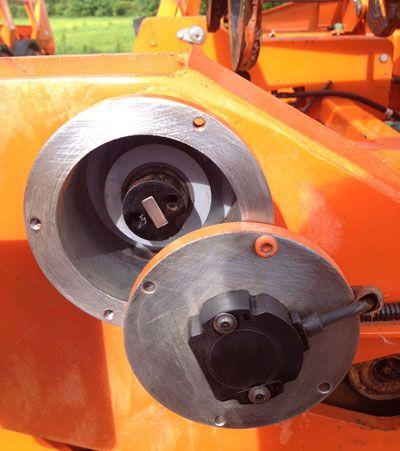 The magnetic angle sensors Novotechnik's RFC-4800 series are compact, easy to mount, and measure the rotation angle over full 360 degrees with a resolution of up to 14 bits. Now there are these contactless sensors especially for use in commercial vehicles also with CAN SAE J1939 interface.
This protocol offers high immunity to interference, low cabling and diagnostic options. There are also other attractive sensor functions such as parameterizable direction of rotation, position offset and a (volatile) revolution counter. The position and speed signals are output on one or two channels.
The magnetic angle sensors are also very robust: they withstand vibrations and vibrations up to 20 g as well as shocks up to 50 g and, above all, meet all the EMC specifications required in mobile applications. The keen requirements of the ECE-R10 regulation for electromagnetic compatibility are far exceeded. The permissible ambient temperature is between -40 ° and + 105 ° C, the requirements of degree of protection IP67 or IP6K9K are fulfilled.
The sensors can be easily mounted in the vehicle. For angle detection, a positional magnet is attached to the rotating axis. Depending on the angle of rotation, the orientation of the magnetic field and thus the signals of the sensor, which is only about 15 mm in diameter, changes. This signal change is converted by the sensor IC into a rotation angle-proportional output signal and made available to the higher-level control. The (independent) linearity of the measurement signal is ± 0,5%, the repeatability is 0,36 °.
---
Another contribution of the manufacturer This e-mail address is being protected from spambots To display JavaScript must be turned on!
More news about innovations for mobile machines
User report The largest machines that are currently digging underground on the construction site of the Semmering base tunnel are two tunnel boring machines. The EAS-HT safety coupling from Mayr power transmission is used to protect these heavyweights. These couplings trigger reliably and understandably and protect the drive components sustainably. They cannot be manipulated and the factory-set torque is available again even after disengagement. Recommissioning is also quick and easy, without additional tools.

Cover story Tractors, combine harvesters or seeders are supplied with wind, weather and dirt every day. Damage or signs of wear are therefore preprogrammed, often have to be repaired directly on the field and often with a variety of challenges. Reliable, mobile and versatile welding systems are an important support in this case. Fronius offers several devices for these challenges.

Altair announces the expansion of the Altair Partner Alliance (APA) with the highly developed visualization and real-time multibody simulation software "Vortex Studio Create" from CM Labs Simulations. The software is now available for use by Altair HyperWorks customers who can gain real-time insights for all device types with the virtual training environment.

SPS Hall 4A, Stand 125 Novotechnik has developed the position transducers of the new TM1 series for position detection directly in the pressure range of hydraulic or pneumatic cylinders. They reliably record the position and speed of mobile machines even in harsh environmental conditions with a resolution of 0,1 mm.

The magnetic angle sensors of the RFC-4800 series from Novotechnik are compact, easy to assemble and measure the angle of rotation over a full 360 degrees with a resolution of up to 14 bits. These contactless sensors are now also available for use in commercial vehicles with a CAN SAE J1939 interface.

Rodriguez offers part-turn actuators as ready-to-install modules with housings and seals as well as optional electric or hydraulic drives. In this way, users benefit from low installation and maintenance costs. The rotary actuators in three sizes can be individually adapted to special customer requirements and are immediately available from stock.

Cover story The next stage of development in agriculture is data-driven and requires robust sensor technology in the field. With its products, Turck enables the operation of intelligent driver assistance systems, the harbingers of fully autonomous work processes. With the steer-by-wire method, QR20 encoders measure the steering angle of axles or accompany the unfolding of the spray arms of a field sprayer. However, ultrasonic and tilt sensors are suitable for aligning the sprayer boom, while Banner Engineering's compact TM18 light barriers can monitor the material flow in the grain elevator of a combine harvester.

Bauma Hall A3, Stand 313 Rodriguez offers slewing drives, ball slewing rings, slewing bearings and electric lifting cylinders in the standard version and customized for the construction industry. Thanks to their special design, the standard slewing rings can absorb radial, axial and tilting moment loads. They are available in two types with a raceway system sealed on both sides.

Case study The suction dredger manufacturer RSP relies on rotary compressors from Mattei. The suction dredgers for civil engineering mounted on trucks are supplied with compressed air. The compressors for this work reliably, are powerful and require little maintenance. RSP GmbH, based in Saalfeld / Saale in Thuringia, has been producing suction excavator bodies for two, three or four-axle chassis since 1993.