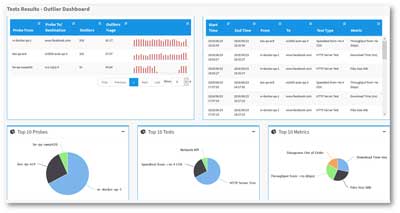 Keysight Technologies has introduced new features for Machine learning in the active Network monitoring platform Hawkeye by Ixia announced. By adding machine learning, Keysight helps companies reduce downtime and improve network uptime. It can quickly predict, identify and correct network anomalies.
The amount and speed of raw data from networks and applications continues to increase. The network operators are faced with a flood of warnings. These network teams need to avoid alarm fatigue while improving their ability to troubleshoot network and application problems.
In response, machine learning, including machine learning, has proven to be a good method for gaining knowledge from huge amounts of data. By 2022, according to Gartner, over 50% of the newly developed applications will be implemented based on machine learning or artificial intelligence.
Machine learning supports network teams
"Keysights Hawkeye uses machine learning to help network operations teams understand their increasingly complex networks," said Recep Ozdag, vice president and general manager of visibility at Keysights Network Applications & Security Group. "Network operations teams struggle to correlate basic performance metrics with actual network problems. The new machine learning functions offer an insight into useful variants. This enables the teams to be quickly alerted to real overloads, problems and application performance failures. "

Hawkeye has automatic threshold and outlier detection. This combines machine learning-based problem detection with customizable sensitivity criteria. It gets through the mess and immediately notifies the network teams of problems. An outlier dashboard enables these teams to identify potential problems at a glance. It also offers integrated, detailed visualizations that help analyze and solve the root cause.
---
Another contribution of the manufacturer This e-mail address is being protected from spambots To display JavaScript must be turned on!
More news from communication technology
Hannover Messe Hall 9, Stand D36 Sensors today often collect large amounts of data that are not processed by the control technology in many applications. With the new IO-Link data splitter E43406 from IFM Electronic, valuable information can be generated from this data. The data splitter thus allows retrofitting of existing plants and machines in terms of Industry 4.0.

Logimat Hall 4, Stand B65 Turck has presented a compact 10 port managed Ethernet switch with IP67 protection. With the robust TBEN-L-SE-M2 switches, camera applications, for example, can be significantly accelerated due to the highest data rates up to 1 Gigabit / s. A high-speed link-up function supports fast tool changes in less than 150 ms for minimal cycle times in the robot. The Ethernet switch can be installed decentrally directly in the field.

Hannover Messe Hall 9, Booth D58 Specialist article Too often, the functioning of the fieldbus and industrial network equate users with the sufficiently high quality of data communication. Although this is imperative for stable machine and plant operation, awareness of the need for monitoring for predictive condition monitoring in industrial automation is slowly becoming established. With a current survey among webinar participants and its annual Vortex Report, Indu-Sol shows the need to catch up. "Once every two years or every 30.000 km" are the recommendations of motorists for the intervals of a regular inspection. Although these dates are based on many years of experience,...

Logimat Hall 5, Booth D45 The Wireless business unit from Steute Technologies presents the latest version of the wireless network solution "Nexy" at Logimat 2020. The wireless network was developed especially for driverless transport systems (AGVs). For this purpose, it offers a function that is unique to date and that reduces the energy requirements of automated guided vehicles (AGVs). Damti makes the radio network the entire AGV fleet more flexible.

Hannover Messe Hall 12, Booth D03, Harting's specialist article at the Hannover Messe 2020 is based on the motto of the industrial show "Industrial Transformation". In this focus, the technology group under the claim "All for Ethernet" ahead and sets new standards for the industrial network for the networking of technical devices, machines and systems for the 75th anniversary. Other highlights will include new connector solutions, the Single Pair Ethernet (SPE) Industrial Partner Network and other industrial interfaces and configurators.

Hannover Messe Hall 17, Stand D34 At the initiative of Trumpf, around 2020 industrial companies, including Pepperl + Fuchs, will be presenting the new "Omlox" location technology standard at the Hannover Messe 60. Using the new standard, various localization technologies can be linked together. Examples are ultra-wideband (UWB), RFID, 5G or GPS. The companies are responding to the increasing use of location solutions in industrial production.

Keysight Technologies has announced the launch of new machine learning capabilities in Ixia's active Hawkeye network monitoring platform. By adding machine learning, Keysight helps companies reduce downtime and improve network uptime. It can quickly predict, identify and correct network anomalies.

EKS Engel FOS GmbH & Co. KG, Wenden, and Etic Telecom GmbH, Baden-Baden will work together as part of a sales partnership from 2020. Her focus is on holistic Local Aea Network, short LAN and Wide Area Network, short WAN solutions. The products of the two companies complement each other perfectly to offer a common portfolio of LANs and WANs. They are used in factory automation and process automation as well as in the energy sector and transportation.

Specialist articles Without communication via the 5G network, no factory of the future or is the 4G network still sufficient? After all, 5G allows peak data rates of up to 10 Gbit / s, latency times of less than 1 ms, availability of over 99,999% and is also extremely energy-saving. As a verified partner of Ericsson, HMS Industrial Networks offers the hardware required for factory automation. With the manufacturer's router, switch or gateway, the integration of 5G communication in systems and machines can be easily implemented and 4G replaced. The use cases also go far beyond factory automation and the number will increase in 2020.
load More halt SHIFT to load everything load all