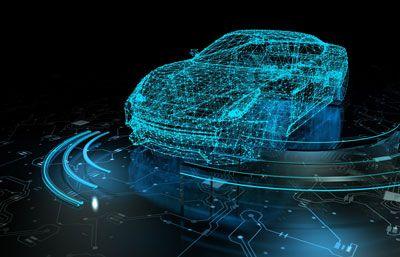 technical articles
Mitsubishi Electrics Information Technology R & D Center in Japan has developed a new sensor technology that allows high-precision detection of vehicle perimeters even in dense fog or heavy rain. The technology is intended to enable a robust function of autonomous and assisted driving systems even in harsh weather conditions, under which the detection accuracy of conventional sensors decreases.
The general research and development into sensors used in autonomous and assisted driving systems continues to focus on improving recognition accuracy. These systems rely on various types of sensors that confirm positions, speeds, magnitudes, etc. of obstacles in the way of vehicles. However, conventional systems with such sensors have not provided reliable performance in, for example, dense fog or heavy rain, since these conditions degrade the transmission of electric and laser waves, as well as the camera vision.
The newly developed robust technology selects and combines data from several sensors on the vehicle based on their reliability. Time-series data collected by different sensors (speed, width, orientation, distance, etc.) are analyzed in real-time to predict how reliable the data of each sensor will be based on the weather conditions. By selecting and combining data with high reliability, high-accuracy detection is possible even in harsh weather conditions.
Safe emergency braking in the test center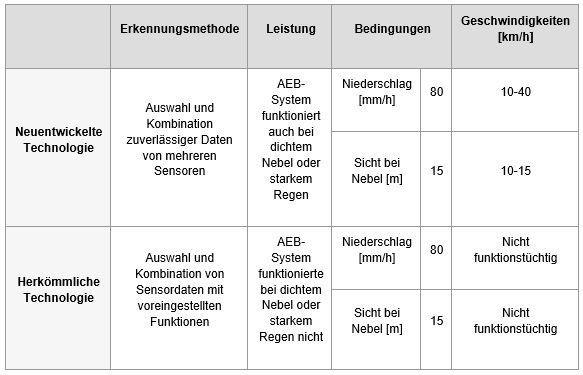 The technology was used in a test center in Japan in a vehicle with autonomous full braking system (AEB) to verify the performance of real vehicles in inclement weather. It was confirmed that the AEB system was able to perform safe emergency braking even under conditions in which conventional sensors would otherwise lose a lot of accuracy.
In the future, the company will continue to test the technology in actual environments and continue the development with the goal of marketing from 2023. It is expected that the technology can be used in autonomous vehicles in the future to ensure safe and accurate lane changes even in harsh weather conditions.
Selection and combination of data from different sensors
Different sensors collected time series data such as speed, width, orientation, and distance, which were compared to the predicted data and values ​​based on the corresponding functions. Real-time calculations predicted the reliability of individual sensor data, which depends on the weather. The system then chose to forecast data as very reliable and combined it. Thus, the function of autonomous and assisted driving systems could be demonstrated even in dense fog or heavy rain.
AEB system also powerful in inclement weather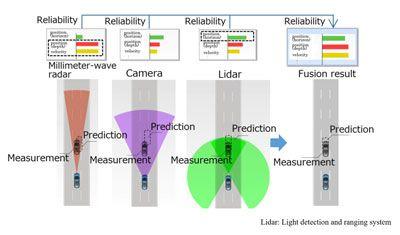 The tests, which simulate harsh weather conditions, took place in a facility of the non-profit Japan Automobile Research Institute. An AEB system was tested in heavy rainfall (precipitation of 80 mm / h) with a maximum vehicle speed of 40 km / h. Thanks to the successful detection of objects that triggered the emergency braking, a normal function of the AEB system could be verified. In addition, the system was tested in dense fog with a visibility of 15 m and a vehicle speed from 10 to 15 km / h. All heavy rain tests were repeated at night. In addition, tests were performed that significantly reduced the camera's accuracy of backlighting at vehicle speeds from 10 to 40 km / h. Under all conditions, the AEB system was successfully activated.
Forecasting features for environment detection
A lidar does not perform well in fog (water in the air absorbs pulse laser signals). Therefore, the system can determine from nidar data available under such conditions based on data. The results of this test are taken into account in the reliability calculation to allow more accurate detection functions.
---
This e-mail address is being protected from spambots To display JavaScript must be turned on!
More news from Mitsubishi Electric
Technical article Mitsubishi Electric presents its smallest and most powerful compact PLC so far. The Melsec FX5UC series has an extremely compact size. It helps mechanical engineering companies to place extended functionality in a minimal space. The programmable logic controller also offers web access and network connections for the latest smart factory applications.

Companies whose goal is to connect the operational technology (OT) of their production environment to their IT systems have a new option from Mitsubishi Electric: The edge computing solution "Melpic" - opens up optimization potential through preventive condition monitoring (predictive maintenance) ) or quality assurance with data evaluation in real time and immediate feedback to the operator.

The new "Melfa" articulated arm and "Scara" robots from the RV-FR and RH-FR series from Mitsubishi Electric are now supported by a force-torque sensor that can be integrated directly into the CR750 / 751 and CR800 robot controls. Because the Force Sensor does not need its own control, the processes are simplified considerably and engineering effort is saved.

SPS Hall 7, Stand 391 Mitsubishi Electric presents itself as "Your solution partner for smart manufacturing". At the booth, the company shows its latest range of automation products and technologies that give users a competitive advantage.

Mitsubishi Electric Europe BV has founded the "High Precision Positioning Systems" division based in the German branch in Ratingen. The new business area offers German and European customers key technologies to accelerate the introduction of centimeter-accurate autonomous driving and safe driving support.

EMO Hall 9, Stand D40 and Hall 13, Stand B92 Mitsubishi Electric shows how machine tools in networked production systems, with intelligent controls, edge computing and partner solutions increase productivity. The connection of robots to machine tools to increase speed and productivity is facilitated by plug-and-play integration.

Jan-Philipp Liersch has been Marketing Manager of the Industrial Automation division at Mitsubishi Electric Europe BV since July 1, 2019.He is now Head of Product Management and is therefore responsible for Mitsubishi Electric's automation products and solutions in Germany, Austria, Switzerland and Benelux.

Mitsubishi Electric Corporation invests in Akribis Systems Pte Ltd, a Singapore-based manufacturer of linear motors and linear tables. With the integration of its servo systems and other industrial automation products into the Akribis product range, Mitsubishi Electric supports the increasing requirements for highly specific and high-precision production.

Technical article Mitsubishi Electrics Information Technology R&D Center in Japan has developed a new sensor technology that enables high-precision detection of vehicle parameters even in heavy fog or heavy rain. The technology is intended to enable the autonomous and assisted driving systems to function robustly even in harsh weather conditions, under which the detection accuracy of conventional sensors decreases.

Specialist articles In Reutlingen, a network of competencies from companies in the region has implemented a training facility for trainees and schoolchildren in the metal, electrical and IT departments, which brings the essential features of Industry 4.0 to life. The system consists of two Mitsubishi Electric industrial robots with different kinematics.

Mitsubishi Electric's "Melfa" articulated arm robots are used for a wide range of handling tasks. At the factory, they are also suitable for hazardous areas. That is why the articulated arm robots are now available with the corresponding individual certification. Because no technical modifications are required for the proof of conformity, the robots can also be delivered without major delays.

Coupling the process data at the control level directly into the IT world is becoming increasingly important, especially in the course of digital transformation. From now on, the "Melsec" controls from Mitsubishi Electric can also be connected to higher-level systems via the IBH Link UA, which is established on the market. MQTT is also possible for the cloud connection.
load More halt SHIFT to load everything load all