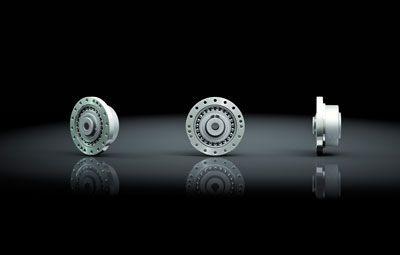 The kit of the Series CSG-2A from Harmonic Drive is suitable for highly dynamic applications. As a corrugated transmission with lifelong precision, it offers zero backlash and the highest transmission and positioning accuracy, which is maintained over the entire service life due to the inherent bias of the transmission.
Compared to standard corrugated gearboxes, with unchanged dimensions this series has 30% higher torques (peak, nominal, average and collision torque). Thus, higher accelerations and delays are possible in the application and the cycle times can be reduced. Alternatively, a smaller gear size can be selected for the same load. This allows a more compact design of the drive system than with standard corrugations.
Due to the 30% increased collision torque, the CSG series has a significantly increased robustness against shock loads compared to standard corrugated gears. However, the higher load capacity of the gearbox is not at the expense of its service life. On the contrary - the lifetime has been increased by 40% compared to the standard gearbox.
The CSG-2A series kits come in ten sizes with the 50, 80, 100, 120 and 160 reduction ratios, with repeatable peak torque between 23 and 3419 Nm and torque density from 260 to 545 Nm / kg. The fine graduation of the sizes makes it possible to select the optimum gearbox size for the application.
The kit, consisting of the components "Circular Spline", "Flexspline" and "Wave Generator", offers design freedom in the integration into the application. By using the existing housing structure, for example, a separate transmission housing can be avoided. Furthermore, often the existing bearing system of the application can be used as an output bearing of the kit and the design can be optimized for lightweight. The high torque density of the CSG-2A series requires little space.
---
Another contribution of the manufacturers This e-mail address is being protected from spambots To display JavaScript must be turned on!