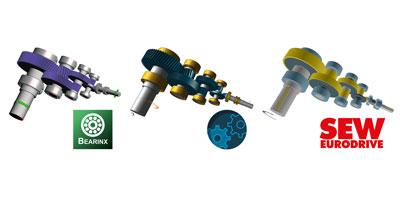 EMO Hall 7 stand C46
technical articles
A complete virtual image of powertrains and gearboxes is only possible if gear, roller bearing and gear specialists are yours simulation models digitally link with each other. Therefore, the cross-company and cross-system data exchange is one of the most important prerequisites for the generation of Digital Twins. Schaeffler and SEW have created such a data exchange.
For the design and simulation of gearboxes, however, several specialized software and CAE tools have become established on the market. Each of these programs has its specific priorities. The problem: The exchange of gear data between manufacturers and their suppliers is often still manual and leads to complex duplication.
Schaeffler has now replaced this manual data exchange between the CAE tools with SEW-Eurodrive and the FVA (Forschungsvereinigung Antriebstechnik eV) with electronic data transmission using a standardized interface for transmission data. This eliminates the multiple modeling of gears. This greatly reduces development time and creates the basis for generating digital twins, which can be used, for example, to analyze operating data in the context of Industrie 4.0 solutions.
Standardized data format
REXS (Reusable Engineering Exchange Standard) The format mentioned in the 1.1 version offers uniform modeling and nomenclature for any gearbox with helical, bevel and planetary stages and its components. REXS is currently integrated into the FVA Workbench as of version 5.0, in the Schaeffler Bearinx Bearings Analysis Tool in the current versions, and in the gear calculation program "Wesilab" by SEW. Even providers of commercial CAE tools have already implemented the REXS interface or plan to introduce it with the next release. At the click of a mouse, a REXS file is simply generated from the gearbox models.
Schaeffler now offers the automated exchange of gearbox data with the help of the REXS interface. Users receive calculation results from Bearinx much faster, significantly accelerating their development process. Stephan Evert, Head of Bearing Analysis Tools Development for R & D Bearings at Schaeffler, emphasizes: "With the help of REXS, we can reduce the cost of software-engineering coupling of CAE tools and simulations while simplifying IT architectures "And continues:" REXS can be used by the transmission industry as a standard data container for the generation of digital twins. "
Accelerated application development
Transmission manufacturers with a large proportion of customer-specific application development benefit greatly from digitized data exchange with their suppliers. "The goal is to be able to efficiently and effectively use different systems with their own computational focus", Dr. Heinrich Bolz, Head of Calculation and Simulation in Development Gearboxes at SEW-Eurodrive, explains about the open-source project: "With REXS, transmission data can be transmitted quickly and without errors. The interface thus makes a significant contribution to optimizing our innovation process. "
The REXS interface is license-free at www.rexs.info. There you will also find all other information about the current and future development. At the Schaeffler booth, visitors can see for themselves how easily the data models can be exchanged between CAE tools.
---
This e-mail address is being protected from spambots To display JavaScript must be turned on!
More news from Schaeffler
The Management Board of Schaeffler AG has suspended the forecast for 10 for the Schaeffler Group and its divisions published on March 2020, 2020 due to the global corona crisis and the resulting events. From today's perspective, neither the further course nor the economic impact can be reliably estimated. There will be a new forecast as soon as this is possible again.

Schaeffler is strengthening its commitment to everything related to hydrogen drive: The automotive and industrial supplier joined the global hydrogen interest group Hydrogen Council based in Belgium in 2020 as a steering member. The hydrogen initiative consists of 81 leading companies from the fields of energy, transport and industry. The aim of the members is to further advance hydrogen technology towards industrialization.

Trade fair statement by Sebastian Mergler Head of Product Management SaaS & Digital Services, Schaeffler Technologies AG & Co. KG, Schweinfurt

download video

Schaeffler has recognized the enormous potential of hydrogen technology as the energy source of the future and developed key components for fuel cells and fuel cell stacks, so-called metallic bipolar plates. The company uses traditional core competencies in material, forming and surface technology.

SPS Hall 8, Stand 311 Schaeffler "Durasense" monitors the tribological condition of the linear guide based on vibration signals. The system consists of carriages with sensors specially developed for this task and a pre-processing unit for up to seven sensors. The pre-processing unit is the heart of the system, because it evaluates the sensor signals and generates a meaningful characteristic value, the lubrication value.

Schaeffler has manufactured the largest spherical plain bearing in its history. The special bearing has an outer diameter of 1900 mm, a bore diameter of 1500 mm and a height of 600 mm. The weight is just under 4,7 t. The bearing is used in a head dredger designed and built by Royal IHC.

EMO Hall 7, Stand C46 Technical Article A complete virtual image of drive trains and gearboxes is only possible if gearbox, roller bearing and gear specialists can digitally link their simulation models. Therefore, cross-company and cross-system data exchange is one of the most important prerequisites for the generation of digital twins. Schaeffler and SEW have created such a data exchange.

Technical articles The development partners Schaeffler and Bonfiglioli have developed a compact Industry 4.0 solution package. Schaeffler combines its two proven measuring systems "Smartcheck" and "Torquesense" into a new condition and torque monitoring system.

As part of the "Agenda 4 plus One" future program, Schaeffler is strengthening its location in Bühl with an investment of 60 million euros. A highly modern development building and the new company headquarters for the automotive OEM division are created.
load More halt SHIFT to load everything load all