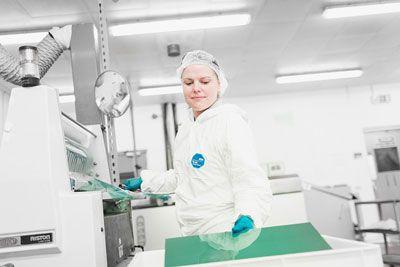 The British specialist in photochemical etching Micro Precision plans to fully automate its frontend manufacturing process to 2020. Millions of investments in new technologies and machines are flowing into this. As a result, the company achieves a significant increase in throughput and more efficiency and service for its customers.
The new technologies will unify Precision Micro's in-line etching process, significantly increasing throughput. An automatic laminator, a buffer system, an exposure unit and a sheet metal unloader are to be installed later this year.
In the chemical etching process, precision components are created by selectively removing metal through a photoresist mask. Compared to conventional metal working methods, the etching process offers a number of inherent advantages. On the one hand, parts can be produced without negatively affecting the material properties, since no pressure and no heat are exerted during processing. In addition, there is almost unlimited part complexity because the features of the components are applied and then removed simultaneously using caustic chemicals.
With the automatic exposure system and laminator, a total investment of 700.000 British Pounds, up to four sheets per minute can be processed, while the current manual printing process allows only one sheet in four minutes.
---
Another contribution of the manufacturer This e-mail address is being protected from spambots To display JavaScript must be turned on!