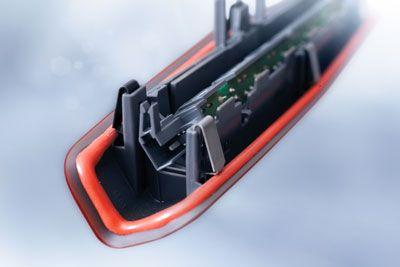 K Hall 7a, Booth B26-03
technical articles
The developer and manufacturer of customized plastic systems based on polyurethane, epoxy and silicone Rampf Polymer Solutions presents its high-performance portfolio of "in situ"seals for the automotive and vehicle construction. These are used, inter alia, in brake lights, headlights or ventilation grilles.
In contrast to inserted or directly glued gaskets, in situ gaskets - Formed In Place Gaskets (FIPG) / Formed In Place Foam Gaskets (FIPFG) - are applied with mixing and dosing systems and adhere without additional adhesive tape. The sealing systems adapt optimally to the respective component and lie stress-free in the groove. The chemical properties are tailored to the respective requirements.
The automatic application of the liquid seal without coupling points and bonding results in a reliable and long-term seal, as the non-detachable seal is firmly connected to the component. Other benefits of FIPFG / FIPG technology include accelerated and simplified manufacturing and assembly processes, eliminating investment in tools. In addition, modified components can be flexibly adapted using NC or robot technology. Color, shape and geometry can be designed as desired.
Omnipresent in the vehicle: Polyurethane and silicone seals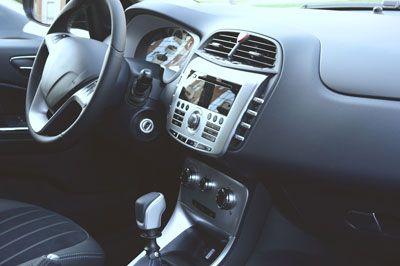 The automotive and automotive industries use FIPFG / FIPG gaskets in a wide range of applications, including door and door lock modules, speaker cabinets, airbag, air conditioning and glove box covers, brake lights, headlamps, rear lights, electrical housings, ignition coil covers, Safety boxes, ventilation grilles and water tanks.
With seals off Polyurethane "Raku PUR" and Silicone "Raku SIL"From Rampf Polymer Solutions, these applications are reliably and long-term protected against moisture, water, dust and chemical influences. In addition, emissions regulations and NVH standards (noise, vibration, harshness) from leading car manufacturers are met.
The manufacturer has developed the "Raku PUR Speed" polyurethane foam sealant, which is tack-free within a few seconds, especially for the ultrafast production chains prevailing in the automotive and automotive industries. This means that components can be processed directly after application of the seal without long curing distances and investments in cost-intensive curing ovens and storage systems can be saved.
"Both our products and services are tailored to the needs of the users. With holistic support from product development to market launch as well as close and trusting cooperation, we make a major contribution to the success of their projects, "said Albert Schmid, Foam Gaskets Key Technology Manager at Rampf Polymer Solutions.
---
Another contribution of the manufacturer This e-mail address is being protected from spambots To display JavaScript must be turned on!