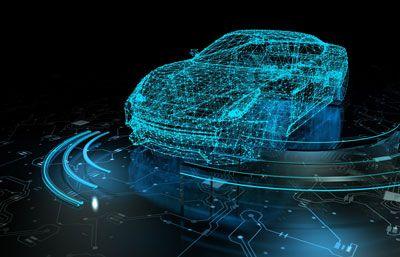 technical articles
Mitsubishi Electrics Information Technology R & D Center in Japan has developed a new sensor technology that allows high-precision detection of vehicle perimeters even in dense fog or heavy rain. The technology is intended to enable a robust function of autonomous and assisted driving systems even in harsh weather conditions, under which the detection accuracy of conventional sensors decreases.
The general research and development into sensors used in autonomous and assisted driving systems continues to focus on improving recognition accuracy. These systems rely on various types of sensors that confirm positions, speeds, magnitudes, etc. of obstacles in the way of vehicles. However, conventional systems with such sensors have not provided reliable performance in, for example, dense fog or heavy rain, since these conditions degrade the transmission of electric and laser waves, as well as the camera vision.
The newly developed robust technology selects and combines data from several sensors on the vehicle based on their reliability. Time-series data collected by different sensors (speed, width, orientation, distance, etc.) are analyzed in real-time to predict how reliable the data of each sensor will be based on the weather conditions. By selecting and combining data with high reliability, high-accuracy detection is possible even in harsh weather conditions.
Safe emergency braking in the test center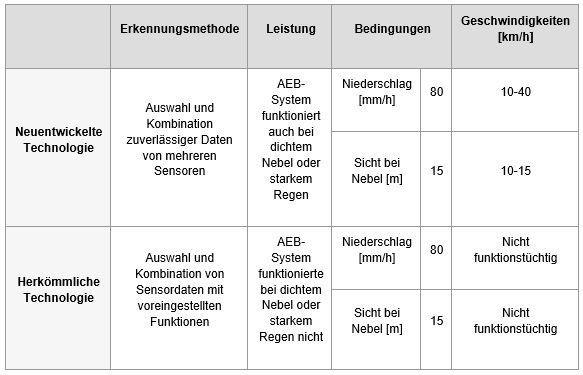 The technology was used in a test center in Japan in a vehicle with autonomous full braking system (AEB) to verify the performance of real vehicles in inclement weather. It was confirmed that the AEB system was able to perform safe emergency braking even under conditions in which conventional sensors would otherwise lose a lot of accuracy.
In the future, the company will continue to test the technology in actual environments and continue the development with the goal of marketing from 2023. It is expected that the technology can be used in autonomous vehicles in the future to ensure safe and accurate lane changes even in harsh weather conditions.
Selection and combination of data from different sensors
Different sensors collected time series data such as speed, width, orientation, and distance, which were compared to the predicted data and values 'Äč'Äčbased on the corresponding functions. Real-time calculations predicted the reliability of individual sensor data, which depends on the weather. The system then chose to forecast data as very reliable and combined it. Thus, the function of autonomous and assisted driving systems could be demonstrated even in dense fog or heavy rain.
AEB system also powerful in inclement weather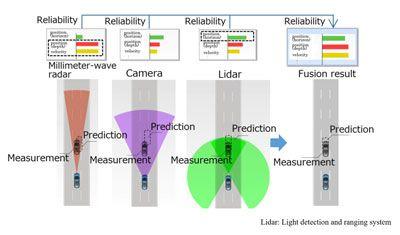 The tests, which simulate harsh weather conditions, took place in a facility of the non-profit Japan Automobile Research Institute. An AEB system was tested in heavy rainfall (precipitation of 80 mm / h) with a maximum vehicle speed of 40 km / h. Thanks to the successful detection of objects that triggered the emergency braking, a normal function of the AEB system could be verified. In addition, the system was tested in dense fog with a visibility of 15 m and a vehicle speed from 10 to 15 km / h. All heavy rain tests were repeated at night. In addition, tests were performed that significantly reduced the camera's accuracy of backlighting at vehicle speeds from 10 to 40 km / h. Under all conditions, the AEB system was successfully activated.
Forecasting features for environment detection
A lidar does not perform well in fog (water in the air absorbs pulse laser signals). Therefore, the system can determine from nidar data available under such conditions based on data. The results of this test are taken into account in the reliability calculation to allow more accurate detection functions.
---
Another contribution of the manufacturer This e-mail address is being protected from spambots To display JavaScript must be turned on!