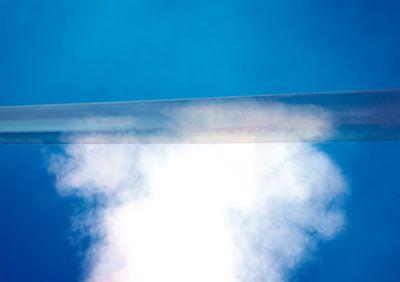 The Fraunhofer Institute for Organic Electronics, Electron Beam and Plasma Technology FEP presents its research results in the field of high-rate coating. Wearables, curved displays or building facades increasingly demand flexible, flexible surfaces with very specific functions or properties.
In addition to layers to reduce gas permeation, to protect against chemicals, radiation or mechanical stress, these also include conductive layers or layers with special optical properties. These are achieved by coating the surfaces with thin functional layers. Increasing the productivity and efficiency of coating processes is a key focus of application-oriented research.

One such coating process is plasma enhanced chemical vapor deposition - PECVD. The FEP is working hard to optimize PECVD processes for high productivity and efficient use in roll-to-roll coating equipment. These allow the large-area, cost-efficient coating of flexible carrier material. In contrast to established methods, the Fraunhofer FEP relies on magnetrons and in particular hollow cathodes as a plasma source.

The hollow-cathode-assisted PECVD process has developed a widely used tool for the separation of partially organic plasma polymer layers on flexible substrates, which not only allows coating widths of up to 4 m, but can also be directly combined with other processes such as sputtering and evaporation in one system.

For silicon-containing plasma polymer layers, dynamic coating rates up to 3000 nm / m / min were achieved. This value is a factor 5-10 above what established methods, such as the microwave PECVD, achieve. Plasma polymer layers provide good protection for underlying functional layers against chemical attack (acids and salts) or against mechanical stress, such as. B. occur in the winding process in the further processing of the materials in roll-to-roll process. It has also been demonstrated that the water vapor permeability of an inorganic barrier layer can be reduced by up to 50% through the in-line deposition of a polymer-like protective layer.
---
Another contribution of the manufacturer This e-mail address is being protected from spambots To display JavaScript must be turned on!