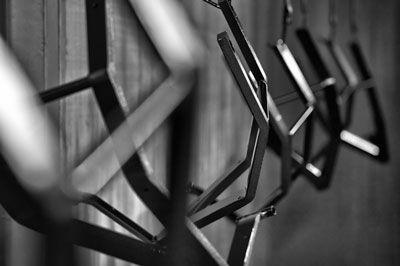 Components in the CDP process are generally hung or plugged onto special devices before being dipped into the different baths. In addition to constructive measures in the design of the workpieces and the construction of this product carrier itself contributes to a good coating result. Therefore, Ebbinghaus Styria Coating pays special attention to the design and manufacture of these product carriers.
In the automotive industry as well as in other industries, advanced manufacturing processes are pushing developers to design parts that can save weight or space, for example. Due to this fact, the geometries of the parts to be coated but increasingly complex and can often be coated with goods carriers, which consist of simple hook bars, no longer error-free. The positioning of the components therefore requires very individual and sometimes very expensive hangers in order to place them in the correct position in the product carrier. The highest criterion here is the run-out behavior of the substrate. A carryover of process media in the so-called scooping points must be avoided in any case, so that it does not lead to quality reductions. Likewise, locations where air bubbles may form must be avoided, and falling or floating of the parts in the process must be prevented.
At Ebbinghaus, special attention is paid to the cost-optimal positioning of the substrates in the product carrier. The trend in the product carriers is increasingly towards terminal or plug-in devices to prevent the oscillation of the parts, which ensures the exact coating position of the parts and usually allows a higher placement in the product carrier.
---
Another contribution of the manufacturer This e-mail address is being protected from spambots To display JavaScript must be turned on!