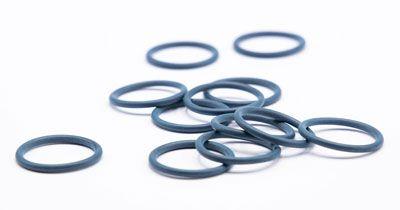 OVE Plasmatec is the first supplier in the world to offer a color coating with FDA approval. The company mainly coats elastomer components. The in-house development has received NSF certification for FDA-compliant coatings in color variants. In the case of seals, the coating can improve friction coefficients and facilitate assembly. Due to the color, these can now also be used confusion-proof for applications in the food industry.
Above all, the use of coated seals depending on the application in the areas of foodstuffs and pharmaceuticals is now possible. Further colors can be developed by the manufacturer after tests and processing trials.
For about two years, the experts researched, mixed and tested until the recipe was fixed. With NSF's certification for FDA-compliant coatings, color-coated gaskets can be used for the first time in the food and pharmaceutical industry without confusion.
The coating is designed for occasional contact with products and packaging in the cosmetics, food, drug or animal feed industries. It is NSF H1 registered and thus compliant with FDA 21 CFR § 178.3570. Fields of application abound. For example, color-coated gaskets are used in machines, components and equipment for food production and processing, such as the meat grinder. In beverage bottling, there are pumps, pipes, valves or fittings, where the unequivocal identification of the correct seals brings safety to the operators.
The coating of elastomer seals makes high-tech parts from simple sealing rings. This allows the coefficients of friction to be significantly improved. Because the coated elastomer components are safely separated, they can later be mounted more easily. Colored coatings ensure that mix-ups are avoided. Complicated application of manufacturing and assembly aids is eliminated. The water-based anti-friction coating is wafer-thin and environmentally friendly. The method is also suitable for large quantities.
---
Another contribution of the manufacturer This e-mail address is being protected from spambots To display JavaScript must be turned on!