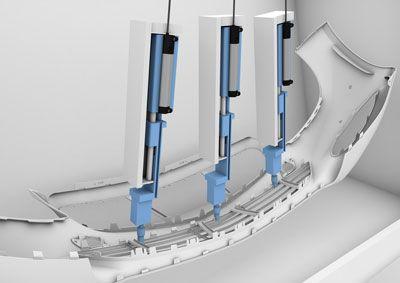 With the Series BMP Balluff has a new intelligent displacement sensor in the program, which in addition to the absolute position signal for the stroke of a piston via IO-Link can also provide information on the sensor status and the current environmental conditions. He supervises z. For example, the sensor temperature, the number of starts and gives warnings when an adjustable limit is exceeded.
An internal counter permanently records the operating hours over the entire service life, since the last maintenance and the last switch-on. This way, any necessary replacement can be scheduled for the next service interval.
The integrated IO-Link interface also offers flexibility; For example, it enables fast format changes thanks to time-saving parameterisation functions. The magnetic and therefore non-contact, wear-free sensor continuously determines the absolute position of a piston, is compatible with almost all cylinder types and quickly mounted. Preferred areas of application can be found where the exact execution of a defined piston stroke decisively determines the process and product quality, for example in the assembly, in the handling area and in factory automation.
Typical application examples for the magnetic field position measuring systems can be found in joining processes. When it comes to joining composites with minimal effort, ultrasonic welding is usually the method of choice, for example in the production of complex components such as dashboards, instrument panels or bumpers and headlamps in the automotive industry. In order to place the sonotrode exactly for the joining process, the position sensor BMP is ideal. Mounted directly on the pneumatic cylinder of the feed unit, it monitors its axial movement and thus continuously checks the piston stroke. In this way, the sonotrode is always accurately fed with every movement with an accuracy of 100 μm. The absolute measurement always knows where the piston is. This ensures products of high, reproducible quality and stabilizes the process.
---
Another contribution of the manufacturer This e-mail address is being protected from spambots To display JavaScript must be turned on!