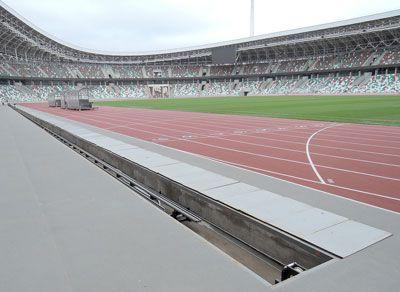 Motek Hall 5, 5402 Stand
cover story
The Russian company Movikom develops and implements innovative robot systems as well as mechatronic solutions for special cameras. The high-tech experts installed a track-based camera system along the soccer field in a Minsk stadium. Robust, reliable linear technology from Rollon gets the camera truck moving and enables shake-free shots of the highest quality.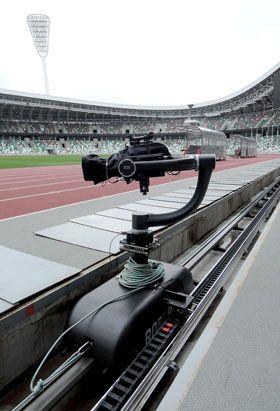 They have long been commonplace in sports events, concerts, TV shows and other major events: Sophisticated camera systems capture every action, emotion and every little detail in fluid and brilliant shots. The necessary high-tech equipment is provided by companies such as Movikom. Headquartered in Moscow, the company specializes in the development and manufacture of robotic and mechatronic equipment for specialty cameras, providing solutions for live broadcasts, outdoor shoots and studio productions.
With "Robycam" the Russians have one of the world's most innovative cable camera systems in their portfolio. The advanced 3D motion control and integrated AR support make the modular system around the globe the technology of choice for TV and live broadcasting. It also includes powerful remote heads (standard and with gyro stabilization), telescopic columns, motion control systems and electronic components for building production infrastructures. All Movikom products are designed to be easily integrated into existing and new production systems as well as event venue infrastructures.
Long, stable single rail wanted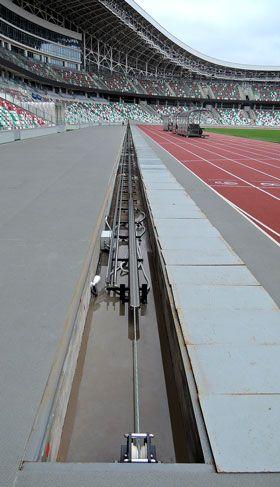 For the installation of his track-based camera system "Robyrail" in a stadium in the Belarusian capital Minsk Movikom was looking for a long and stable single rail, which ensures even camera movements at high speeds, thus ensuring a stable image. After all, the camera dolly moves while filming with up to 10 m / s.
The system was to be built along the entire length of the football field and assembly had to be quick and easy. Also, an inconspicuous solution was desired, which was feasible without major intervention in the existing infrastructure. The requirements also included a quiet operation, so as not to disturb the sound during the recording, maximum performance in wind and weather, as well as a high level of reliability and freedom from maintenance. Only a few suppliers on the market were able to meet these high demands. Finally, it was at Rollon.
The linear motion system specialist is one of the world's leading full-service providers and offers one of the most comprehensive ranges of linear guides, telescopic extensions and linear axes. In addition to modular standard components, the range of services also includes tailor-made special solutions that are precisely tailored to the respective application.
Shake-free shots thanks to smooth camera shots
Rollon's linear technology experts also had a suitable solution for use in the Minsk Stadium: the linear guide "Speedy Rail" from the "LinearLine". The heavy-duty systems do not require maintenance or lubrication, ensuring reliable and quiet operation, even in the most challenging environments.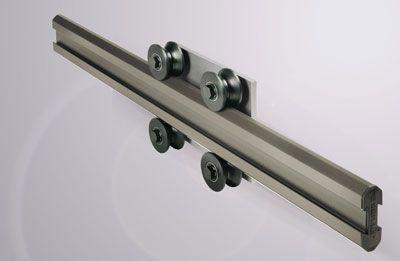 The modular Speedy Rail guides consist of a self-supporting and self-aligning rail and a roller-based carriage. Thanks to their special structure with hollow cross-sections and the aluminum alloy with hardened, anodised surface, they can absorb high bending and torsional forces. This ensures optimum stability, maximum load capacity and maximum reliability.
Stability is an extremely important factor: After all, the Robyrail R3 gyro-stabilized camera head in the Robyrail system has to be as quiet as possible during fast camera shots and requires good camera stabilization. The Rollon rail makes a significant contribution to this.
Reliable in wind and weather
The robust linear systems can reach speeds of up to 15 m / s at accelerations of up to 10 m / s2 and thus live up to their name. Up to 7500 mm length can be made in one piece. On each side, the profiles have a dovetail groove. Thus, the individual rail sections can be quickly and easily connected to each other and realize systems of unlimited length, drilling or welding are not necessary.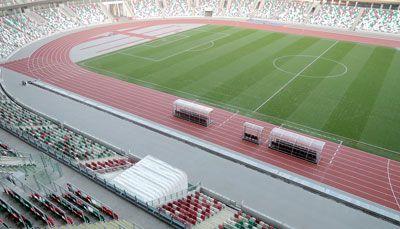 The rails undergo a patented treatment process. This creates a smooth and hard surface comparable to tempered steel. The runners with dust-proof, plastic-coated steel rollers are resistant to contamination and pollutants and virtually maintenance-free. The special plastic material also ensures a unique smoothness.
All roller carriers are equipped with concentric and eccentric pins for rapid adjustment of roller-rail contact. Whether rain, storm, snow or heat: The Speedy Rail is designed for a temperature range of -30 ° to + 80 ° C and runs smoothly even in the most adverse weather conditions. The linear components do not run out of steam that quickly: with a lifetime of up to 80.000 km, they are true long-distance runners.
A successful co-production
The Speedy Rail has convinced Movikom across the board. The Russian high-tech experts also appreciated the very long strokes of the linear guide and the high service quality of the Rollon specialists. They did extra calculations, consulted the Italian office, gave quick answers to all questions, brought product samples and was always helpful. The result speaks for itself: The robust, reliable construction meets all requirements in terms of dynamics, stability and longevity.
---
Catalog Linear Line This e-mail address is being protected from spambots To display JavaScript must be turned on!