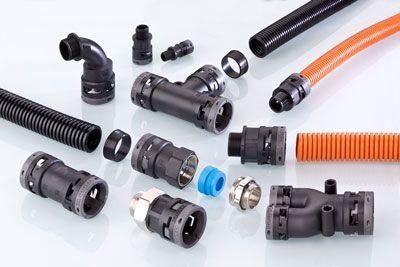 The new corrugated pipe system from Pflitsch "Protect" is a well thought-out and perfectly coordinated cable protection system. The flexible corrugated pipes and fittings made of high-quality polyamide are practice-oriented and cover the widest possible range of applications. They are designed for the high demands of mechanical and plant engineering, automation and robotics, the automotive industry, the navy and railway technology.
The basic program consists of six corrugated tube types, each available in the profile variants coarse and fine. The components are approved for operating temperatures from -40 ° to + 105 ° C, the corrugated pipe for high-temperature applications even up to + 150 ° C. The corrugated pipe system also proves to be extremely resistant to mechanical and chemical stress. In addition, it has a very good weathering and UV resistance. Some versions even meet the highest fire safety standards for rail vehicles according to EN 45545-2.
The Protect fittings provide extra safety: they are compatible with all Protect corrugated pipes with a fine and coarse profile thanks to the characteristic retaining ring. This guarantees a safe and durable connection even with vibrations. During installation, the corrugated pipe is locked in the fitting with a conscious locking process, which increases the operational reliability of the installation. Likewise, the unit can be easily unlocked again z. B. for modifications of the system.
The certified Protect system is available in three variants: Even the basic version already achieves the high IP protection class 66. In the version with additional sealing ring on the corrugated pipe, the system fulfills the highest requirements of the protection classes IP 68 and IP 69. The "UNI Protect" version with integrated UNI sealing components also achieves the IP protection classes IP 68 and IP 69. The proven principle of soft crushing also guarantees optimum strain relief of the cable with a long service life. In addition, the cable installed in the corrugated tube is sealed. Even with mechanical damage to the corrugated tube, no moisture gets along the cable into the housing in this premium version.
---
development scout TV - Interview This e-mail address is being protected from spambots To display JavaScript must be turned on!
More news about cables and wires
Logimat Hall 4, Stand D61 Technical Article Users of Single Pair Ethernet (SPE) are finally getting investment security. As Harting announced yesterday, the IEC standards committee SC 48B for connection technology published the IEC 63171-6 standard. The standard interface for industrial SPE applications was thus manifested. The SPE Industrial Partner Network is behind the new standard, which is now freely available.

Wire Hall 9, Stand F55 Paul Leibinger presents a labeling system for printing on cables and wires in record time. Wires, pipes and hoses can also be labeled at up to 1000 m / min or 60 km / h. The JET Rapid Wire Inkjet Printer no longer slows down the production of extrusion products through the labeling. Thanks to the manufacturer's Sealtronic nozzle closure technology, it ensures a measurable increase in productivity.

Conta-Clip has expanded its KES range with the screwless version KES-E for quick and easy installation. The plates for cable entry enable the electrician and electronics technician to quickly and safely insert unassembled electrical cables or hoses into the control cabinet and machine housing. Elaborate cable glands are a thing of the past. The cable assembly of the KES-E is done using the all-round profile seal without the use of tools.

The energy chains of the "Easytrax", "Qquicktrax" and "Uniflex Advanced" series are designed so that they can be opened quickly. This makes line assignment and exchange particularly easy, and the user saves time and money. The latest measurements prove: With the opening tool available for the energy chain, users of the Uniflex Advanced 1455 can open one meter of energy in just three seconds.

Franconian Industrial Pipes presents the new "Fiplock" One Fittings with a rotatable metal thread. They make it easy to assemble pre-assembled cable harnesses without having to turn them during installation.

FMB-Süd Stand E16 The Single Pair Ethernet (SPE) technology offers completely new opportunities to transfer the immense data streams reliably and quickly even in the smallest area of ​​the machine. Igus introduces the first SPE "Chainflex" cable for movement in the energy chain. The use of only one pair of wires reduces the outside diameter by 25%.

Where signal and power cables are led through a housing wall, there is a gap in the shield through which electromagnetic waves "slip through". High-quality EMC cable glands are required to securely close this shield gap. With the "Blueglobe TRI" series, Pflitsch has introduced a cable gland that optimally shields the cable shield when the cable enters the control cabinet.

SPS Hall 3C, Stand 366 With corrugated cable protection tubes made from 100% polyamide 12 regenerate, Reiku is setting an example in terms of sustainability. The expanded product range also includes corrugated pipes made of bio-based polyamide 1. It covers nominal diameters from 7 to 95 mm and covers the entire area of ​​application from cobots to large industrial robots.

SPS Hall 4, Stand 310FMB-South Stand E16 Interview with Rainer Rössel Head of GB Chainflex Lines, Igus GmbH, Cologne

download video
load More halt SHIFT to load everything load all