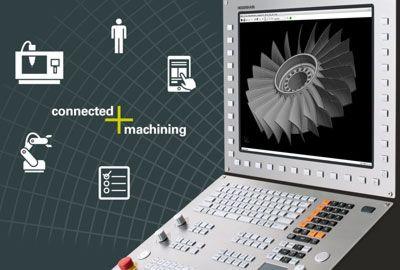 AMB Hall 4, Stand E12 and B12
The Heidenhain
TNC controls
with Connected Machining enable new integrated digital order management in manufacturing. Connected Machining summarizes features of the TNC controls that support the networking of control in the workshop with all production-related areas in the company.
This allows the machine operator to use all available data and information securely with the Remote Desktop Manager. This saves time, if he z. B. can retrieve missing data from CAD / CAM applications directly from the TNC controller. Likewise, he can of course also send feedback to all process participants, z. B. via subsequently adapted in the workshop cutting data or deliveries.
Among other things, the DNC interface enables the connection of TNC controls to ERP or control center systems. Automated feedback can be set up via the current production processes. This increases the transparency in production from lot size 1 and supports on-time order management. The intuitive operation and context-sensitive support of the operator are the typical features of the TNC controls.
New aspects of the functional packages Dynamic Efficiency and Dynamic Precision complement the topic "Finishing with the TNC". The Adaptive Feed Control AFC from the Dynamic Efficiency function package not only increases the cutting performance in heavy-duty machining. It also significantly improves process reliability because AFC detects too high a spindle load and can thus avoid damage to the tool and component.
The combination of CTC to compensate for dynamic positional deviation and AVD for active vibration damping approaches the contradictory demands for accuracy and speed. CTC and AVD from the Dynamic Precision package provide more efficiency in practice, especially when milling high-quality freeforms. The combination enables very good surface quality and contour accuracy at high feed rates.
LAC, the Dynamic Precision function for load-dependent adaptation of controller parameters, improves the dynamic accuracy of the axle for every load situation. Therefore, LAC-optimized jerk values ​​can be used for workpiece feed axes. This in turn leads to a shorter processing time. Because the feed axes reach the desired positions faster.
---
Another contribution of the manufacturer
This e-mail address is being protected from spambots To display JavaScript must be turned on!