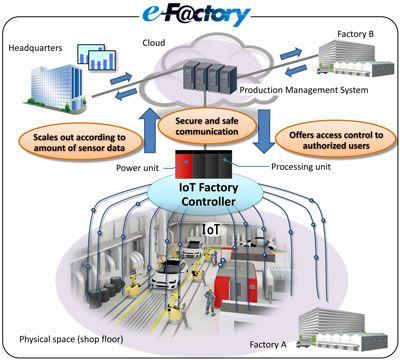 technical articles
Relevant initiatives in optimizing the value chain of production are the US "Industrial Internet Consortium" (IIC), The Japanese "Robot Revolution Initiative" (RRI) and particularly "industrial 4.0" (I40) from Germany. Mitsubishi Electric participates together with partners of the eF @ ctory Alliance in all three initiatives active in the design of sustainable production.
The German Mittelstand knows about the relevance of Industrie 4.0 and other initiatives for the sustainability of its operations. Nevertheless, projects often fail because of the investment costs. It is important, at least step-by-step, to work towards the implementation of Industrie 4.0, says Thomas Lantermann, Senior Business Development Manager at Mitsubishi Electric Europe BV: "To realize big visions, many small steps are necessary. This corresponds to the Japanese Kaizen principle of continuous improvement. Even the middle class should take this to heart. Implementation will be supported by Mitsubishi Electric and the eF @ ctory Alliance partners. A basic building block is certainly the connection of production to an MES or ERP system. It provides transparent data that can be used to increase efficiency, flexibility and quality. "
Industry 4.0 in own production
Mitsubishi Electric has extensive experience in implementing Industry 4.0, not least from its own production. This has been done since 2003
MES module
in large servo motors production in Nagoya Works for a direct connection of production and enterprise level. Further optimization in collaboration with eF @ ctory Alliance partners has increased the plant's productivity by 180% and reduced production cycles by 60% and processing times by 40%.
Success story circuit breaker
In a recent joint project of the eF @ ctory Alliance, Mitsubishi Electric's Kani plant has created a highly flexible production of circuit breakers. From previously 50 stations, six robot cells now share the different process steps. This reduced the process flow by 55% and the land use by 85%. The new robotic and sensor-based systems have contributed to a productivity increase of 30% and an improvement in plant availability by 60%. The recorded production data are permanently compared in a cyber-physical system in real time with the virtually deposited data. In the event of a deviation, the systems react immediately, which has a positive effect on the product quality.
3000 partner worldwide
The initiator of the
eF @ ctory Alliance
In this context, we collaborate with 3000 partners worldwide from a variety of fields, each with extensive experience in their specialist areas, such as sensor technology. The central element of this alliance are open interfaces that allow components from different manufacturers to be easily combined in all the world's popular networks. The result is the best possible solutions for every customer requirement. Thomas Lantermann explains: "In production, it is still important to ensure and increase competitiveness. This requires increased production efficiency and flexibility and reduced time to market. These challenges can be mastered very well with solutions from the eF @ ctory Alliance in the sense of Industry 4.0. "The research and development of solutions in the sense of industry 4.0 is significantly driven by the European development center of the automation company in Ratingen.
---
Another contribution of the manufacturer
Automation solutions
This e-mail address is being protected from spambots To display JavaScript must be turned on!