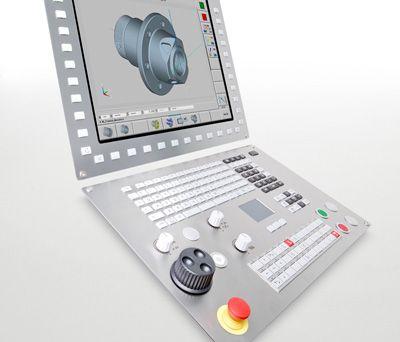 Turning Days Stand A-08-1
In many workshops, the "
CNC Pilot 640
" from
Heidenhain
already operating successfully. Finally, the lathe control provides a comfortable user interface. On the Turning Days 2015 the manufacturer is the powerful function "TurnPlus" live at the programming station before. TurnPlus makes programming more quickly. Depending on the geometry definition of the operator saves about 80% of the required for programming the machining time. This creates scope for optimization and security when entering the NC program.
Create NC programs with Turn Plus in no time
Turn Plus generates a detailed annotated smart turn program with work blocks (units) in just a few steps - automatically and in the shortest possible time. After the operator has described the rough and finished part contour, he only chooses material and clamping devices. Everything else is done by the controller: creating the work plan, selecting the work strategy, selecting tools as well as cutting data and generating the NC blocks. This also applies to complex workpieces with machining on the front, rear and lateral surfaces. Turn Plus also knows the position of the clamping devices and takes them into account in the automatic work plan generation. This automatically limits the cut to a safe distance to the clamping device. Once the program has been completed for the first setup, the necessary re-clamping of the workpiece takes place in dialog-guided mode.
Then the controller automatically creates the program for the second setup without reentering the workpiece geometry. A control chart shows every single step. In the control a meaningful sequence of processing options is given, for example, "first flat roughing, then longitudinal roughing" or "first outer finishing, then internal finishing". This sequence can be adjusted by the operator himself to different tasks.
---
Another contribution of the manufacturer
This e-mail address is being protected from spambots To display JavaScript must be turned on!