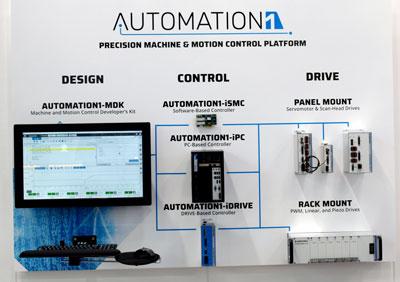 SPS hall 1, booth 122
Aerotech presents its "Automation1" control platform, which, among other things, demonstrates force regulation in a demo system with the ACT115DL linear high-performance actuator. The motion control platform functions as a complete machine control with all components and thus offers much more than a pure motion control.
The "Automation1 Precision Machine and Motion Control Platform" is used for precision motion and machine control. It brought control of positioning systems and connected components to a platform equipped with a new software-based motion controller. This allows servo and stepper motors, galvo scan heads, piezoelectric actuators and various other devices to be controlled. The drives are connected via the Hyperwire bus, the most powerful communication bus in the motion control industry.
Using a concrete example, the provider shows how the force control can be set up and used with Automation1. For this purpose, the linear high-performance ACT115DL actuator is installed in combination with a force sensor. Trade fair visitors can see for themselves how easy it is to start the positioning mode, then use the force control jerk-free and bumplessly, and then switch back to the positioning mode. It demonstrates how the rigid mechanical structure of the linear actuator enables dynamic performance with significantly reduced settling times.
Automation1 is particularly suitable for automation systems, precision laser processes, test and inspection processes and much more.
---
Another contribution of the manufacturer This e-mail address is being protected from spambots To display JavaScript must be turned on!
More news about controls
Logimat Hall 1, Stand G21 Many companies are reluctant to modernize their facilities. There is never the right time for this. The weekends are best suited for this. With the right preparation for implementation, downtimes and machine downtimes can be reduced to a minimum. A digital twin of the Uniware intralogistics system from Unitechnik ensures planning security.

Cover story In the food industry, flexibility is becoming an increasingly important characteristic. At the same time, companies prefer security systems that offer operational efficiency and cost advantages in addition to the necessary security function. The machine for processing cold cuts from Weber Maschinenbau shows how these requirements can be implemented. They were secured with a modular safety controller from Schmersal. The service package included commissioning and validation by the Tec.nicum service division.

Technical article Mitsubishi Electric presents its smallest and most powerful compact PLC so far. The Melsec FX5UC series has an extremely compact size. It helps mechanical engineering companies to place extended functionality in a minimal space. The programmable logic controller also offers web access and network connections for the latest smart factory applications.

With "B Maxx PLC", Baumüller is launching a control platform that combines the properties of industrial PCs and PLC controls and thus optimally covers the area between these existing solutions. They are available in two versions: B Maxx PLC for motion control and B Maxx PLC IoT for Industry 4.0.

SPS Hall 7, Booth 450 With the new automation platform "Ctrlx Automation" Bosch Rexroth is lifting the classic boundaries between machine control, IT and the Internet of Things. The scalable platform enables the flexible design of central and decentralized automation topologies. With a Linux real-time operating system, open standards, app technology for programming, web-based engineering and a comprehensive IoT connection, the engineering effort is reduced by 30 to 50%.

SPS Hall 1, Stand 122 Aerotech presents its control platform "Automation1", which among other things shows a force control with the linear high-performance actuator ACT115DL in a demo system. The motion control platform functions as a complete machine control with all components and thus offers significantly more than just motion control.

SPS Hall 7A, Stand 411 With the control unit NRGC-PN by Carlo Gavazzi, up to 32 linked semiconductor relays or contactors of the RG_CM_N series can be controlled and monitored. It has two RJ45 ports for the Profinet interface. Using the Profinet-IO communication protocol, the switching processes of the solid-state relays can be controlled directly from the PLC and the real-time data can be recorded from each solid-state relay.

EMO Hall 9, Stand I32 Heidenhain controls offer process reliability, accuracy and productivity from batch size 1. With the component monitoring in the new TNC 640 with 24 "widescreen and Extended Workspace Compact, the company is introducing a new option for TNC controls.

Coupling the process data at the control level directly into the IT world is becoming increasingly important, especially in the course of digital transformation. From now on, the "Melsec" controls from Mitsubishi Electric can also be connected to higher-level systems via the IBH Link UA, which is established on the market. MQTT is also possible for the cloud connection.
load More halt SHIFT to load everything load all