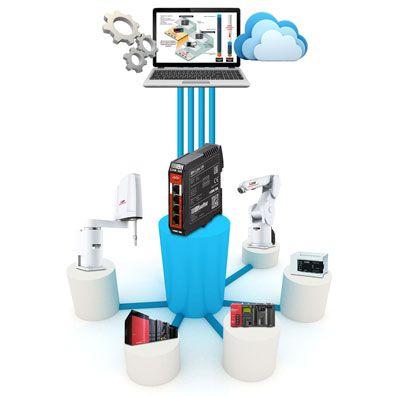 Linking the process data of the control level directly into the IT world is becoming increasingly important in the course of the digital transformation. From now on, the "Melsec "controls by Mitsubishi Electric be connected to higher-level systems via the established IBH Link UA. Also MQTT is directly possible for the cloud connection.
The IBH Link UA is an OPC UA server / client module with firewall. It is a compact rail mount device with four Ethernet ports and an 24-V power supply. New is the connection of the controllers of the series FX5, L, QnA and iQ-R. You can access the same functionality of the OPC UA module. Also, user-defined OPC UA variables can be exchanged with an MQTT broker / server and used for cloud solutions. The variable names can be taken directly from the PLC project. OPC UA Companion specifications, eg. For the OMAC standard, are directly implementable. Communication with the controllers is via TCP / IP. The additional function for the controllers is also available for already commissioned IBH Link modules and can be easily downloaded by a free update.
The IBH Link UA has three Ethernet ports for the machine level and one Ethernet port for higher-level systems, such as MES and Cloud solutions, The advantage of the assembly is that it is server / client assembly. The OPC client function also enables the exchange of data between OPC servers. For example, controllers or other devices with OPC UA from different manufacturers can exchange data via this function. The configuration of the client function is done via the web interface. For user-defined OPC UA variables, data structures can be defined in a separate namespace and then connected to any other OPC UA server via the client function. Thus, other OPC UA clients can read and write these data structures.
Soon the connection of the Robot with the OPC UA CS for robots. Inverters that support the MC protocol can already be connected.
---
This e-mail address is being protected from spambots To display JavaScript must be turned on!
More news from Mitsubishi Electric
Cover story With a high degree of automation, Rodinger Kunststoff-Technik GmbH (RKT) ensures the required quality and efficiency in the production of various plastic parts for the automotive industry, electronics industry, communication technology and medical technology. The automation technology for the plastic injection molding machine comes from Mitsubishi Electric, including numerous 6-axis robots RV-2FR and the human-machine interface GOT2000.

With artificial intelligence (AI) you are also smart beforehand. Mitsubishi Electric is now using its own AI for predictive maintenance. By analyzing operating parameters recorded in real time, maintenance requirements are determined before they occur. This means that necessary measures can be planned in advance and reduced to a minimum. The automaker's AI technology is called maize. It can be easily implemented on the Melfa robot using the Melfa Smartplus add-on card.

User report There are still mechanical engineering companies that manufacture their required components exclusively in Germany and are also profitable. Durwen Maschinenbau GmbH manages this because it has implemented a high degree of automation in its production. In the manufacture of its add-on parts for forklifts, for example, the control of the CNC milling machines communicates directly with the handling robot from Mitsubishi Electric and does not require a master. Durwen Maschinenbau GmbH develops, produces and sells attachments for forklifts and is successful worldwide in this segment. These attachments can hold up to four Euro pallets side by side and two in a row. Can during operation...

Technical article Mitsubishi Electric presents its smallest and most powerful compact PLC so far. The Melsec FX5UC series has an extremely compact size. It helps mechanical engineering companies to place extended functionality in a minimal space. The programmable logic controller also offers web access and network connections for the latest smart factory applications.

Companies whose goal is to connect the operational technology (OT) of their production environment to their IT systems have a new option from Mitsubishi Electric: The edge computing solution "Melpic" - opens up optimization potential through preventive condition monitoring (predictive maintenance) ) or quality assurance with data evaluation in real time and immediate feedback to the operator.

The new "Melfa" articulated arm and "Scara" robots from the RV-FR and RH-FR series from Mitsubishi Electric are now supported by a force-torque sensor that can be integrated directly into the CR750 / 751 and CR800 robot controls. Because the Force Sensor does not need its own control, the processes are simplified considerably and engineering effort is saved.

SPS Hall 7, Stand 391 Mitsubishi Electric presents itself as "Your solution partner for smart manufacturing". At the booth, the company shows its latest range of automation products and technologies that give users a competitive advantage.

Mitsubishi Electric Europe BV has founded the "High Precision Positioning Systems" division based in the German branch in Ratingen. The new business area offers German and European customers key technologies to accelerate the introduction of centimeter-accurate autonomous driving and safe driving support.

EMO Hall 9, Stand D40 and Hall 13, Stand B92 Mitsubishi Electric shows how machine tools in networked production systems, with intelligent controls, edge computing and partner solutions increase productivity. The connection of robots to machine tools to increase speed and productivity is facilitated by plug-and-play integration.

Jan-Philipp Liersch has been Marketing Manager of the Industrial Automation division at Mitsubishi Electric Europe BV since July 1, 2019.He is now Head of Product Management and is therefore responsible for Mitsubishi Electric's automation products and solutions in Germany, Austria, Switzerland and Benelux.

Mitsubishi Electric Corporation invests in Akribis Systems Pte Ltd, a Singapore-based manufacturer of linear motors and linear tables. With the integration of its servo systems and other industrial automation products into the Akribis product range, Mitsubishi Electric supports the increasing requirements for highly specific and high-precision production.

Technical article Mitsubishi Electrics Information Technology R&D Center in Japan has developed a new sensor technology that enables high-precision detection of vehicle parameters even in heavy fog or heavy rain. The technology is intended to enable the autonomous and assisted driving systems to function robustly even in harsh weather conditions, under which the detection accuracy of conventional sensors decreases.
load More halt SHIFT to load everything load all