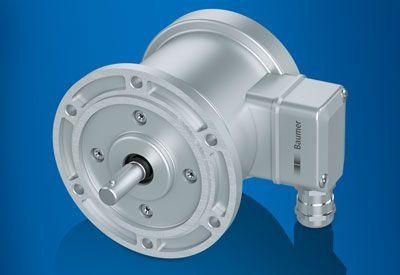 Automatica Hall B6, Booth 500

Baumer
expanding its portfolio of
Heavy Duty encoders
, The latest variant POG 86E focuses on the essentials: Housing made of corrosion resistant aluminum alloy and pure function. For the user this means significantly lower costs while maintaining high reliability in demanding applications. Thus, the portfolio of incremental Heavy Duty Encoder is now continuous.
Today's corrosion-resistant aluminum alloys allow the use of unpainted fan cowls, connectors and cable glands on modern electric motors. The additional protective function of a coating is not always necessary and it eliminates a cost factor. The
unpainted POG 86E
extends the established
Heavy Duty Encoder Family HOG 86
to a full wave variant. Its sleek aluminum housing is of particular interest to manufacturers and users who can dispense with painted components or even prime and paint.
The POG 86E fulfills all heavy-duty performance promise. The massive housing design with wall thicknesses above 10 mm protects the electronics under high mechanical stress. The two-sided, generously dimensioned bearing structure guarantees the absorption of large radial and axial shaft loads up to 450 and 250 N. Compared to one-sided bearings, the encoder achieves a much longer bearing life. The bearings are isolated, so they are permanently protected from induced wave currents. Likewise, the encoder electronics is isolated from the shaft. The breakdown voltage is 2,8 kV.
The optical scanning can be ordered with a resolution of up to 5000 pulses per revolution and is insensitive to magnetic influences. It withstands high temperature fluctuations and adverse environmental conditions and delivers consistently high signal quality and clean measurement results. For safety-critical applications, there is also the twin rotary encoder version. Here are two separate, galvanically isolated devices combined in a housing on a shaft. On the one hand this increases the availability and on the other hand different resolutions can be ordered for the devices.
Like all POG variants, the POG 86E encoder has a solid shaft with 11mm diameter and the Euro flange B10, the worldwide standard for mounting flanges of heavy-duty encoders. The version with single-sided hollow shaft up to diameter 16 mm is called HOG 86E.
---
development scout TV - Lecture
Another contribution of the manufacturer
This e-mail address is being protected from spambots To display JavaScript must be turned on!