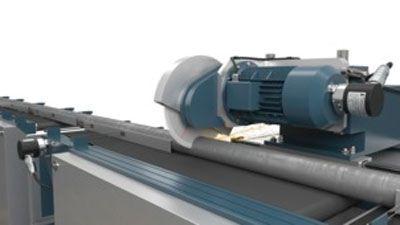 technical articles

Hannover Messe Hall 9, Stand D76
The design of magnetic absolute value encoders of Pepperl + Fuchs is designed precisely for difficult environmental conditions. They deliver the highest precision in any industrial environment. Their design is compact, robust and does not require any mechanical components. More performance and more longevity, coupled with extremely high accuracy, bring applications closer to the goal of absolutely faultless processes. The article describes a series of predestined applications.
Overview of advantages and various applications of wear-free magnetic field technology
With the advancement
magnetic encoder
For use in particularly harsh operating conditions, Pepperl + Fuchs has exceeded the limits of the hitherto technically feasible. The magnetic field technology now combines design-related robustness with high precision and dynamics. The
ENA58IL-,
ENA36IL and 42H series define a new industry standard in the 0,1 ° performance class. The high-performance rotary encoders also impress with their new interfaces for Ethercat, Profibus and Profinet and always offer a suitable solution even for demanding applications in general mechanical engineering.
Originally developed for adverse conditions
What today sets the benchmark for industry standard encoders was originally developed for use in the most adverse operating conditions. Magnetic, non-contact rotary encoders have long provided adequate solutions where other encoder technologies fail due to exposure to dirt, vibration, shock, etc. Their advantage is that they have no mechanical gear that can wear out or cause maintenance or service costs. Thus, these encoders deliver reliable measurements uninfluenced by environmental effects: This goes far beyond fields of application such as mobile equipment applications, wind turbines and the like and also arouses greediness in general mechanical engineering - especially as more and more difficult environmental conditions, faster processes, etc. lead to ever higher loads Lead manufacturing equipment and the components used therein. "Previously, optical encoders were usually used in this environment. They deliver the signals almost in real time and achieve high accuracy. However, due to their complex mechanics, they can be sensitive to harsh environmental conditions such as dust, vibration or temperature fluctuations, "explains Stefan Horvatic, Head of Product Management at Pepperl + Fuchs Drehgeber GmbH.
Sensor combination creates new perspectives
However, conventional magnetic encoders have been neither fast nor accurate enough to deliver the signal quality needed in demanding industrial applications. As a result of the further development of magnetic field technology, the automation specialist has exceeded the limits of what is possible up to now and has combined the robustness of magnetic encoders with high precision and dynamics. The powerful encoders of the ENA58IL, ENA36IL and 42H series use a highly effective magnetic detection principle that combines the established Hall and Wiegand sensor techniques. With high precision and dynamics, these magnetic encoders can now be used in applications in which only optical versions have hitherto adopted the positional tasks. "With their fieldbus and Ethernet variants, their compact designs and versions, including the heavy-duty variant, the areas of application of the new series are so versatile that there is always a solution to standard requirements in general mechanical engineering," adds Horvatic. The benchmarks set by the new series are highly demanding applications in a wide variety of areas, from the printing industry to beverage filling, to robotic applications and the technology function 'flying saw'. The heavy-duty rotary encoder version, which is used primarily in outdoor applications, is the most compact in its class.
Security in the printing process
Printing machines are among the most complex machines. Only a few hundredths of a millimeter thin paper webs, which race across countless rolls through color towers with up to 15 m / s, make the high demands on the required accuracy clear. The movements of the rollers must be exactly matched so that the paper does not tear or wrinkle and the pressure is exactly in the right place. Rotary encoders that control roller speeds must be accurate and subject to strong vibration. In addition, they must be resistant to dirt, as the inevitable color and paper dust must not affect the function. With their high resolution and absolute accuracy of <0,1 °, the magnetic encoders of the ENA58IL series guarantee the required high precision and process reliability.
Precisely positioned for filling
High speeds are also common in modern beverage bottling plants. Here are up to 90.000 cans or bottles per hour filled with juice, beer, soda, etc. Decisive for a reliably functioning process is the exact positioning of the containers under the filling nozzles. If this is not guaranteed, products will be lost. In addition, the misdirected fluids can get into equipment and contaminate them, causing additional cleaning work, but also enormously burdened the system components. Thanks to their accuracy, the wear-free encoders of the ENA58IL series reliably ensure precise positioning of the containers in the highly dynamic filling process. Their robust design meets the high demands of the food industry.
Especially compact for tight spaces
In the field of industrial robot axes, manufacturers have been spoiled for choice of the right encoder: precise or robust or compact. Rotary encoders detect the movement of the individual axes of an industrial robot. They thus provide the basis for determining their position. Especially in smaller robots for low payloads, it can be very close in their inner life. In such applications, the encoder sizes ENA36IL with their particularly compact housing of only 36 mm have proven themselves. They also achieve accuracies of <0,1 ° and offer a resolution of up to 16 bits.
Position data acquisition in flight
One of the equally demanding encoder applications is the so-called 'flying saw' (picture above). As a technology function for machining processes in continuous material flow, they are used in a wide variety of applications and in almost all industries. It is not only used in its classic fields with saw blades, knives or scissors of various kinds. From stamping, drilling or filling to synchronous material transport, this feature allows a variety of operations. Especially with fast movements, the synchronization of the feed axes becomes a challenge. The magnetic absolute value encoders of the 0,1 ° Performance class from Pepperl + Fuchs meet the high demands on precision and dynamics. At the same time, the robust magnetic field technology is suitable for the most harsh operating conditions.
Extremely robust in outdoor use
The heavy-duty 42H encoders are available for particularly harsh conditions, such as those found in the outdoor use of commercial vehicles or mobile equipment. These are mainly used in more demanding applications such as the positioning of jib cranes. Here safety and accuracy play an important role. If the movement of the crane boom goes too far, man and machine can quickly be damaged. The 42H encoders ensure the position of the crane boom even under high shock and vibration effects. The wear-free magnetic field technology offers absolute reliability and long life under the toughest conditions. They can easily be integrated into mobile machines among the most compact heavy-duty encoders in their class.
New industry standard with a variety of variants
ENA58IL are the first magnetic rotary encoders with an accuracy of <0,1 ° and resolution of up to 32 bits in multiturn design. Since the analogue signal is directly tapped and supplied to the output without any detours, the ENA58IL offer a dynamic response, based on the cycle time of <80 μs. Thus, these encoders can also be used in high-speed applications such as in the printing machines already described. The compact and robust design in a wide range of variants, with all current electrical and mechanical interfaces - coupled with the latest magnetic scanning technology - make the ENA58IL the new industry standard for encoders. Highlights include the fieldbus and Ethernet variants. With SSI, Profibus, Profinet and Ethercat, the encoder series offers a very wide range of applications in any industrial environment.
The sophisticated magnetic field technology even fits in small cases with only 36 mm diameter.
The ENA36IL series comprises the most compact rotary encoders of its kind. They are ideal for confined spaces such as in industrial robot axles. The heavy-duty version 42H is also one of the most compact encoder versions. Even the most adverse environmental conditions with extreme shock and vibration loads and high bearing loads are no problem. With its extremely robust construction, a sealing concept up to IP69K approved and a stainless steel housing, the 42H are used wherever high reliability under extreme environmental conditions is required. With the CANopen, J1939, Analogue and SSI interfaces, this rotary encoder series is suitable for use in mobile construction machines, paper mills or crane systems.
---
Another contribution of the manufacturer
This e-mail address is being protected from spambots To display JavaScript must be turned on!