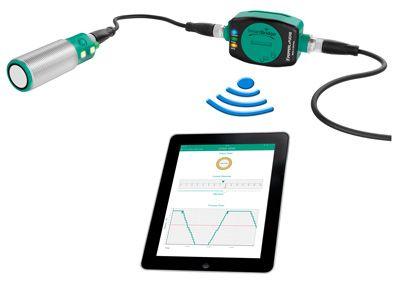 technical articles
Hannover Messe Hall 9, Stand D76
By networking from the lowest level to beyond factory boundaries, cyber Physical Production Systems (CPPS) will massively increase flexibility, performance, and efficiency through effective communication and self-organization. The additional "horizontal" communication paths parallel to vertical networking in the familiar automation pyramid are of central importance. From the point of view of sensor technology, this additional connectivity and the use of IT technology and hardware are particularly interesting. Pepperl + Fuchs has the term "Sensors 4.0" embossed.
Dr.-Ing. Peter Adolphs, Managing Director Development & Marketing at Pepperl + Fuchs about the Smart Bridge technology
Modern sensors depict increasingly complex functions and thus also offer more parameters or setting options. Optimal use requires display elements for states or measured values, at least temporarily. The sensors must be parameterized and configurations saved. For clear user interfaces are desirable, but can not be implemented on the sensors themselves because of miniaturization and cost reasons.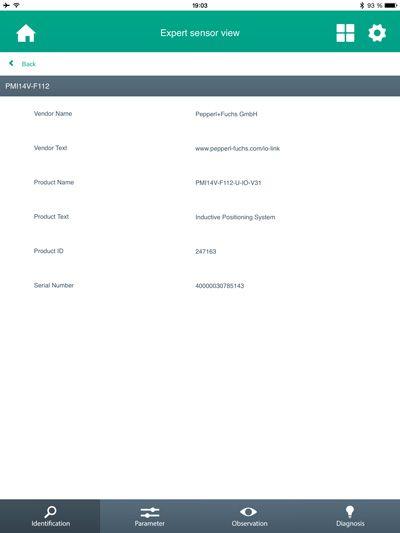 The realities are small LEDs, LCD displays as well as buttons, DIP or rotary switches and potentiometers that have to be operated with screwdrivers. It is to transport in a small space a lot of information to the user, which is possible only with multiple assignments of buttons, LED flash codes. There is only limited space for labels. The user needs more or less detailed written guidance in a language he understands to work with such little intuitive systems.
In addition, device-bound elements are useless in many cases, because during assembly on the accessibility or visibility of control and display elements can be taken no account or the sensors must be installed completely inaccessible. With permanently installed remote control units, functions can also be visualized away from the sensor or settings made conveniently, but such devices additionally require space and cost.
Modern mobile devices such as tablets and smartphones are better suited for such purposes. These are high-end devices at comparatively low prices. High graphics performance, high-contrast screens, integrated sensors, powerful wireless interfaces and, last but not least, the intuitive operating systems make smartphones and tablets perfect display and control units even in automation.
However, a common interface is missing for use in the sensor sector, since the mobile terminals have only wireless access.
IO-Link protocol
With IO-Link, a digital interface protocol is available at the sensor level, which is supported by most sensor manufacturers. It uses the connectors available for process data transmission as well as the standard 3,4 or 5 cable to transmit parameters and measurements during operation without affecting the real-time characteristics of the sensor or actuator. There are no additional connections to be led out of the sensor, take up the space and cause costs.
A consortium has specified IO-Link and set it as default. All manufacturers of sensors, actuators and controllers are represented in this consortium. It is therefore to be expected that in the future all parameterizable sensors will also be offered in IO-Link version.
Adapter and app as a bridge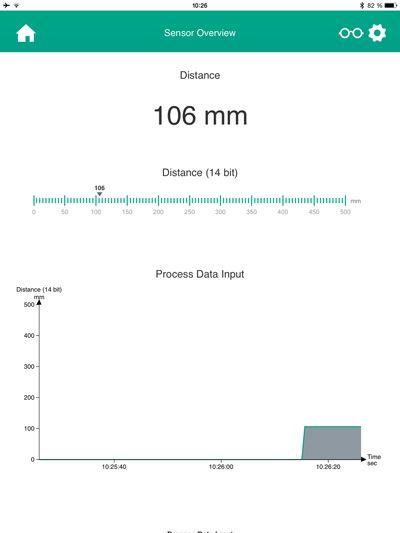 To bridge the "digital gap" between sensors and mobile devices, Pepperl + Fuchs has the
System "Smart Bridge"
developed. It consists of a wireless adapter and an app for mobile devices. The adapter is designed in IP67 and equipped with M12 plugs customary in sensor technology. Thus it is looped into the sensor supply line and also supplied with energy. The adapter establishes an IO-Link communication with the sensor and reads out measured values, identification data, setting parameters and much more from the sensor. These data are wirelessly made available to mobile devices via Bluetooth 4.0.
When selecting wireless technology, Bluetooth was preferred to a Wi-Fi network for two reasons. On the one hand, a pure point-to-point connection is established with Bluetooth, the sensor does not become part of a difficult-to-survey network with potential dangers. On the other hand, when building a Bluetooth connection to the sensor of the wireless adapter of the mobile device is free and can be used, for example, in parallel for a network or Internet connection. All available servers or services can then be used.
For storing sensor configurations or for long-term data logging, the Smart Bridge is equipped with a removable μSD card, which can be accessed via a USB port. At the same time, the sensor specialist is working on integrating the Bluetooth functionality into suitable sensors so that these devices can be accessed directly with mobile devices without the need for an adapter.
Mobile device as a convenient tool
The Smart Bridge app is available for smartphones or tablets with iOS or Android operating system. This can be used to establish connections to sensors equipped with wireless adapters. The app lists on startup on a "Connectscreen" all located in the receiving area sensors, one of which can be selected to establish a connection. After selecting a sensor and successfully authenticating the user, specific pages are displayed for that type, showing parameters and measurements.
It is possible to switch between a hierarchical, text-based listing of all sensor data ("Expert View") and a representation prepared with graphical elements. B. sensor readings or switching states at a glance. The structure of these pages is controlled by descriptor files, which must be available for each type of sensor on the mobile device. For these files, the app has an update feature that can be used to reload such descriptors. This ensures the support of future sensor types without having to change the app itself.
Authentication on connection checks passwords stored in the adapter and mobile device. The password is transmitted using a SHA2-based challenge-response procedure in order to protect the password and prevent unauthorized access to the sensors.
---
Another contribution of the manufacturer
This e-mail address is being protected from spambots To display JavaScript must be turned on!