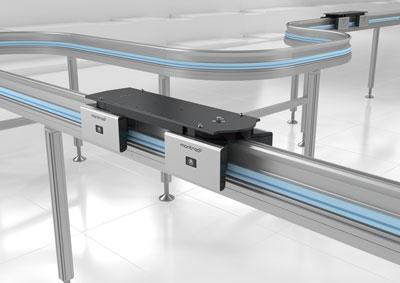 Logimat Hall 3, Stand B08
Success Story
Pepperl + Fuchs has worked in close partnership with montratec a customized one 2D lidar sensor developed for a more flexible transport shuttle based on the specially developed Pulse Range Technology. This allows a distinction to be made between permanently installed track sections such as tunnels or curves. This was not possible before and not easy either, as this user report shows:
The trend "away from a pure catalog product - towards a customized solution" is also noticeable at Pepperl + Fuchs. "With the changing market conditions, our customers' requirements also change," explains Andreas Dereux, Key Account Manager at Pepperl + Fuchs. "Plant operators are asking less and less about standard products, but more about solutions that are tailored precisely to their needs. Together with the Montratec company, we have jointly developed such a specific sensor solution from scratch. "
Sensor as a new heart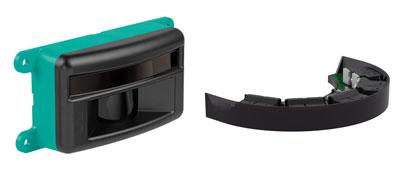 Montratec, based in Niedereschach in Baden-Württemberg, manufactures modular monorail systems for internal transport tasks and assembly processes. The goals were set with the development of their latest shuttle generation "Montrac Shuttle MSH5". "The MSH5 was not about a simple further development of the previous model, but rather about taking a big technological step forward", emphasizes Michael Haug, Product Manager at Montratec.
The sensors integrated in the previous shuttle are based on a one-dimensional, optoelectronic sensor with energetic signal evaluation. This emits a simple switching signal and detects preceding shuttles via a singular light beam. A distinction between permanently installed track parts such as tunnels, preceding shuttles or even cornering are not possible. That should change with the new generation.
"The list of requirements for the lidar sensors as the heart of the shuttle was correspondingly long and it quickly became clear to me that we could not meet these with the products available on the market. So we had to find a partner with whom we could design a solution that was specially tailored to our application, "said Rolf Wiechert, Vice President R&D at Montratec. "It wasn't that easy," Haug interjects. "Only Pepperl + Fuchs, with its experience and technological expertise, had all the prerequisites for this cooperation. Particularly noteworthy was the willingness to create something completely new from his portfolio. "
Milestone of intensive cooperation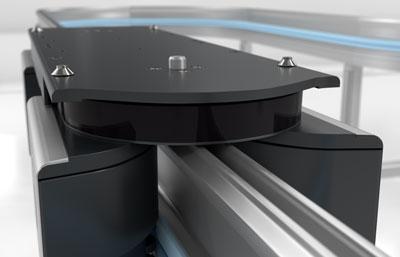 "We have united two perspectives in this project," says Andreas Dereux. "Montratec knows exactly what is important in the field of industrial intralogistics and Pepperl + Fuchs in turn, what contribution high-performance sensor technology can make for this. In the run-up to the actual development work, there were various meetings in order to build up an optimal understanding of the application, the environmental conditions as well as the shuttle and its desired functionalities.
Thorsten Schroeder accompanied the project as a product manager at the Pepperl + Fuchs location in Berlin, the competence center for optoelectronic sensors. "The collaboration with Montratec was very intensive across the different phases of the project," said Schroeder. "As a product manager, I was particularly involved in the first phase of the development of a comprehensive specification." This forms the basic framework for all further steps and thus represents an important milestone in the overall project. Because the actual process can only be completed if all requirements are sufficiently specified Start development work.
Pulse Range technology as a basis
"Relying on measuring technology was the crucial starting point for this development. In contrast to the sensor installed in the original shuttle, distance values ​​are now output that can be used for further processing, "explains Wiechert. With "Pulse Ranging Technology", PRT for short, Pepperl + Fuchs uses a specially developed pulse transit time method that measures distances from a few centimeters to several hundred meters with the direct measuring method with millimeter precision.
PRT has already proven itself in many products. So for them too 2D lidar systems R2100, which was used as the basis for the new sensor solution. "The greatest technical challenge was to adapt exactly this underlying technology to the conditions in the shuttle," explains Schroeder, specifying: "This includes the aspects of design, hardware and software."
Tailor-made lidar sensor in many ways
If you compare the Lidar R2100 and the sensor solution developed for it for Montratec, it becomes clear at first glance that the two products no longer have much in common on the outside. A completely new end product is being created today on a production line specially set up for this project, including special calibration and testing devices.
The housing was specially tailored to the shape of the shuttle and designed so that it fits perfectly into the shuttle design. This adapted design required a completely new design of the measuring electronics. Individual lidar sensors now provide distance and intensity information from five different measuring points in a semicircular, geometric arrangement. "So this was about a multi-channel sensor solution. This in turn had an impact on the measurement evaluation, so that software adjustments were also necessary here, "Schroeder outlines the further individualization measures:" This is the first time that we have completely adapted a two-dimensional solution to a specific customer problem. "His colleague Dereux visibly adds:" And that is also the peculiarity. To use an existing, powerful technology in order to create something completely new together with the customer. "
When the first prototype could be used in the shuttle, the joy on both sides was correspondingly great. When you see the sensor successfully in applications for the first time after so many months of close and intensive collaboration, it is undoubtedly an emotional moment, everyone agrees.
Real added value for intralogistics
The advantages of the new five-channel sensors cannot be denied. Thanks to the five measuring beams, the new Shuttle MSH5 has an additional, peripheral field of view and thus reliably detects shuttles and interfering objects in front at any time - and this on straight and winding routes. In addition to better monitoring of the route and the associated optimized collision avoidance, the wider beam angle of the five transmission LEDs also enables the transport of wider workpiece carriers. If a sensor is also used at the rear of the shuttle, reverse movements can also be monitored. "Today we use a high-quality industrial sensor that is far superior to a switching solution with its measuring technology," Haug sums up with satisfaction. "With the newly acquired features, we generate real added value for our customers in intralogistics."
---
Customer magazine Amplify This e-mail address is being protected from spambots To display JavaScript must be turned on!
Further contributions from Pepperl + Fuchs
load More halt SHIFT to load everything load all