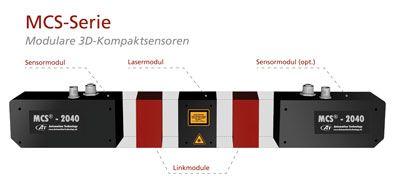 AT - Automation Technology presented with regard to Laser triangulation optimized MCS series modular High speed 3D compact sensors a world first. Users can use it to configure the solutions required for their applications. You specify the desired performance data such as scan width (x-FOV), distance, position, points per profile and scan speed and receive a perfectly tailored 3D sensor composed of appropriate modules.
The MCS series complements the C5-CS series of preconfigured high-speed 3D compact sensors. The sensors of both series combine high-end 3D technology and state-of-the-art laser electronics in a compact housing with protection class IP67, which allows use even in the harshest industrial environments. Thanks to the optimized triangulation setup, they deliver highly accurate measurement results, even for distant areas of the test surface, since the detector and optics are arranged according to the Scheimpflug principle. The sensors are factory calibrated and equipped with GigE Vision via 5 to 24 V digital inputs and outputs up to the RS422 encoder interface.
Tailor-made solutions for all laser triangulation applications
All configurations can also be implemented with a dual head sensor, i.e. two modules. This enables an even higher quality of the measurement through occlusion-free 3D images as well as the combination of sensor modules with different performance data, which perform different measurement tasks in parallel. This means that uncomplicated, tailor-made solutions are also available for all laser triangulation applications in which several properties of components are examined, such as the geometry and surface properties of the wood object.
The current sensor modules of the MCS series with optimized laser traingulation support an output of up to 2048 points per profile and achieve a profile speed of up to 200 kHz. They have a scan distance (x-FOV) of 130 to 1200 mm and a z range of 100 to 800 mm as well as a triangulation angle of 15 to 45 °. Depending on the configuration, the resolution x is between 80 and 580 µm and the resolution z between 2 and 22 µm. The laser is available in red or blue.
---
Another contribution of the manufacturer This e-mail address is being protected from spambots To display JavaScript must be turned on!
More news about sensors for automation
Hannover Messe specialist articles Pepperl + Fuchs, Neoception and Bosch Connected Industries (BCI) have digitalized and automated the processes for supplying and removing Kanban shelves throughout a joint project. In addition to its automation expertise, Pepperl + Fuchs brought the required sensors into the project. A newly developed, touching sensor bar in particular plays a major role in this application. Neoception was responsible for the software interface to an Industry 4.0 application IES developed by BCI. This coordinates, controls, monitors and visualizes the goods management of the Kanban shelf and integrates the solution as a holistic system in ERP environments.

Hannover Messe Hall 9, Stand D36 Sensors today often collect large amounts of data that are not processed by the control technology in many applications. With the new IO-Link data splitter E43406 from IFM Electronic, valuable information can be generated from this data. The data splitter thus allows retrofitting of existing plants and machines in terms of Industry 4.0.

User report Food and beverages In view of ever more individual customer requests and smaller lot sizes in high-wage countries, manufacturers can only remain competitive with sufficient process automation. High-performance and robust sensors are required here so that the systems become transparent. The Swiss sensor experts from Baumer work closely with their customers to create the right automation for their problems.

The goal of predictive maintenance is not only pursued by Igus with its intelligent smart plastics products for monitoring plain bearings, cables and energy chains. Manufacturers of machines and systems are also increasingly offering solutions with their own condition monitoring tools. Automation specialist Güdel also uses Ig.EC and EC.W sensors for its linear robots when it comes to predictive maintenance.

Sensors that deliver reliable and precise measured values ​​can create real added value with IO-Link. For greater flexibility, Baumer presents its sensors using the dual channel principle. The PP20H pressure sensor and the Combilyz AFI conductivity sensor from Baumer now offer even more interesting functions with the IO-Link interface. For example, they can be parameterized quickly and easily - even during operation. Thanks to the dual channel, the sensors can be operated simultaneously, digitally or via the respective channel.

With the fully digital inductive IO-Link sensors Alphaprox from Baumer the most extensive diagnostic data on the market can be generated. In addition to sensor temperature, operating time and operating voltage, the IO-Link sensors also record boot cycles, switching frequency and distance values. This information can easily be called up via the IO-Link interface and digitally processed in the controller. In addition, the sensors have a kind of memory.

Faulhaber presents a 6,2 mm small, precisely fitting encoder for the BXT flat motor family. With the diameter-compliant, magnetic incremental encoder IEF3-4096 BXT, the brushless DC motors also remain very short in length. The encoder was fully integrated in the robust motor housing.

Kübler presents its new generation of Industrial Ethernet encoders, which differs technically and mechanically from existing fieldbus encoders. Thanks to the new technical platform, the "Sendix F58" Profinet IO encoders can also be integrated into Profidrive and Profienergy networks. With the new generation, the familiar fieldbus hood will also be replaced by the new design. This also saves installation depth.

Logimat Hall 3, Booth B08 User report Pepperl + Fuchs has developed a customer-specific 2D lidar sensor for a more flexible transport shuttle based on the specially developed Pulse Range Technology in close partnership with Montratec. This allows a distinction to be made between permanently installed track sections such as tunnels or curves. This was not possible before and not easy either, as this user report shows:
load More halt SHIFT to load everything load all