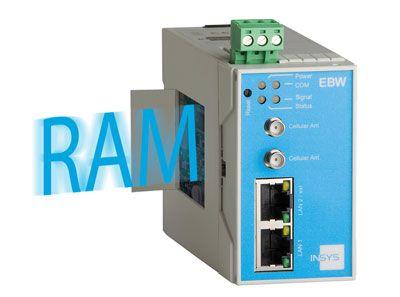 The firmware update "OS 2.12.11" for the EBW routers of Insys Icom now also relocates the
LTE mobile router type EBW
-L100 to send and receive SMS. For example, event-driven messages can be sent when the router is restarted or when connecting and disconnecting network cables, while incoming SMS can trigger a reset or the establishment of a VPN tunnel.
Additionally, all Sandbox EBW models have been upgraded from 10 MB to 40 MB sandbox, increasing performance for applications running in the Linux virtual environment. In line with the vendor's Smart IoT platform, sandboxing can be used to save, process and visualize captured data with little effort. A permanent file system with 150 MB storage capacity is available for this purpose.
The sandbox is integrated as a Linux environment directly on the EBW devices. Because it is programmable separately from the firmware like a virtual machine, proprietary scripts and programs can be executed on the device: so-called edge computing, the local processing of data at the point of capture, is just one of the benefits of the Smart IoT platform , It also supports data transfer to (mobile) devices, customer-specific infrastructures or cloud services (cloud computing).
---
Another contribution of the manufacturer
This e-mail address is being protected from spambots To display JavaScript must be turned on!