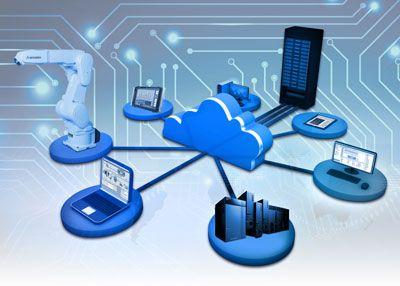 technical articles
Mitsubishi Electric highlights its expertise in edge computing and cloud computing support. The interest of companies that already take advantage of the benefits of the Industrial Internet of Things (IIoT) is growing steadily. The Edge Computing solutions are based on local control platforms to enable filtering and preprocessing of smart device production data. At the same time, they simplify communication with a wide range of standard and niche cloud services.
The integration of data from an ever wider range of control components and field devices can be done via Ethernet. More and more intelligent devices have their own IP address. However, the integration can also be carried out wirelessly by GSM standard or by linking existing RS232 devices via a network gateway. Devices generate a huge amount of information and are interconnected through the open standard protocols. The resulting highly networked intelligence is considered a key element in creating a digital environment within companies. The combination of digital data in networked systems will help you make faster and better decisions.
As the amount of data will increase significantly in the future, there will have to be significant changes in the IT infrastructure. Therefore, more and more emphasis will be placed on cloud-based data storage and processing. More and more companies are using cloud services. These not only enable the easy storage of large amounts of data, but also offer the possibility to analyze data. From this you can easily derive individual trends and dashboards.
Complement edge computing and cloud computing
Some requirements require it to respond to real-time data. In part, this can not be guaranteed with cloud services. Data must be collected, collected and analyzed on-site to be mirrored back into the process and machines in real time.
That's the job of Edge Computing. It is the link between the enterprise world and real-time production. It brings the intelligence, processing power, and communication capabilities of an edge gateway or intelligent device directly to local and high-performance Programmable Automation Controllers (PACs).
Edge Computing works in addition to cloud computing and companies are beginning to realize that they need the potential of both. The cloud provides the broader picture of the IIoT, while Edge Computing brings it to life by supporting applications that require real-time responses.
Mitsubishi Electric has developed solutions that complement edge and cloud computing. They provide easy and secure access to a range of different cloud services while enabling edge computing. These solutions are based on technologies like the
C controller
,
MES interface module
and the
MAPS Scada platform
.
C controller and MES interfaces
The C-Controller is an Open Platform Controller based on the C programming language. It enables an efficient edge computing platform. In addition, database technologies can be used by the
e-
F @ ctory Alliance
Partners such as Raima, to be directly integrated into PACs from Mitsubishi Electric. This provides greater transparency and improved performance of sensitive production processes.
Production data from sensors, drives, PLCs, actuators and robots are filtered and preprocessed within the C controller and the MES interface solutions (such as the C Application Server or the MES IT module). Local data processing and better data availability provide immediate benefits in terms of performance and speed.
The C application can preprocess the data or transfer it directly to different cloud services. Not only the best-known and largest cloud services are supported - such as SAP Hana, Microsoft Azure and Amazon - but also special cloud solutions, niche cloud applications and cloud-based analytics services can be integrated.
eF @ ctory Alliance Solutions
An OPC UA interface is also available for connection to these cloud systems (MX OPC UA). Additionally, the e-F @ ctory Alliance partner platform offers IoT Connectors for seamless cloud connectivity. These partners include Ewon, Secomea or Iconics. In addition, the C-Applications server can use information from the various cloud services. In more process-oriented areas and industries, the MAPS Scada platform supports the full range of Microsoft connectivity technologies as well as virtual basic scripts and OPC UA structures.
---
Another contribution of the manufacturer
This e-mail address is being protected from spambots To display JavaScript must be turned on!