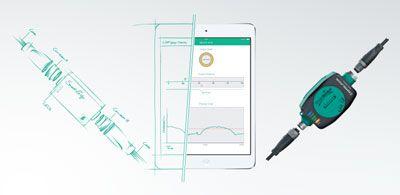 technical articles

SPS IPC Drives Hall 7A, Booth 330
Industry 4.0 can only become a reality if the data flows freely through all levels. The data interfaces at sensors and actuators play a decisive role here. The ideal interface is loud Pepperl + Fuchs as simple, universal and widespread. IO-Link meets these requirements: As a generally available and cost-effective connection technology, it has the potential to become a core element of the Sensors 4.0 becoming the information base for the automation of the future.
Sensors 4.0: Building bridges from the sensor level into the cloud
IO-Link allows a new dimension of communication capability with unchanged wiring. The usual three-, four- or five-pole cable suffices, the system architecture remains untouched. The IO-Link interface is integrated in the sensor or actuator and allows communication with the IO-Link master, which in turn is part of a controller or a fieldbus gateway. It controls and controls the IO-Link devices, but also conventional binary devices can be connected. The technology works fieldbus-neutral and manufacturer-independent.
Steps to Implementing I / O Link
Using IO-Link already makes plant design easier. Analog interfaces are no longer needed and can be replaced by the IO-Link. The same applies to parameterization interfaces such as RS232, since IO-Link can transmit process and parameter data at the same time. Thus, the number of variants also reduces planning effort and spare parts inventory.
IO-Link saves the operator the time-consuming manual setting of devices during commissioning. Once a setting has been made, it can be cloned. During setup, extensive diagnostic options are available. For example, measured values, stability or functional reserve of a sensor signal can be checked and optimized.
During operation, IO-Link offers comprehensive diagnostics options for operation and maintenance. It provides information about the operating state of the devices, for example, can detect contamination or wear long before a failure and cause a demand-based maintenance. The automated parameterization makes it possible to carry out a recipe change for a large number of devices almost simultaneously, without manual readjustment of individual instruments and without plant shutdown.
IO-Link comes with a very simple and inexpensive electronics, it is no special plug as fieldbuses needed. If new sensors or actuators are purchased, the additional option IO-Link interface only incurs minimal costs, which are not significant compared to the advantages.
Application example object recognition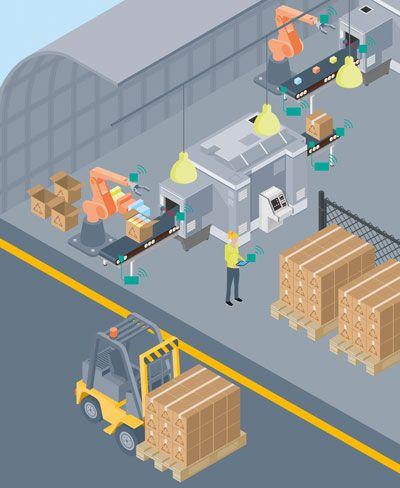 A typical application example from the
packaging technology
For an IO-Link-capable sensor system is the object recognition, such as packages in logistics or components in a production process. A measuring light curtain
LGM series
reliably detects any object by interrupting its infrared light rays up to a field height of 3200 mm.
Depending on the parameterization, the LGM provides detailed information about the objects to be detected as a measuring sensor. In addition to binary data (object there / not there), it also records its height and / or width with millimeter precision, in order to then use the storage areas efficiently and optimally during storage. By combining height and width measurement, the object volume can also be determined exactly.
In addition, thanks to a teach-in function, the LGM identifies objects based on shape and geometry, even those with openings and openings. Based on the measurement of the object size or specific contour features, the object can be assigned to a specific distribution path, without complex identification systems having to show the way.
The IO-Link interface enables easy commissioning, parameterization and remote configuration of the light grids from the control level. General operating parameters, modes for measured value output and operating values ​​for object identification can be quickly and easily set or changed during operation. Settings can be carried out centrally on many devices. At the same time, the interface provides comprehensive diagnostic information so that maintenance requirements can be detected early and system downtime can be avoided. The additional information density requires neither additional cabling nor a change in the system architecture.
With these options, object recognition automation reaches a level that allows 4.0 industry concepts to be realized with the 4.0 sensor technology. Differentiated control up to the quantity of one becomes possible. On the one hand, the measuring, intelligent sensor plays a decisive role. On the other hand, it is the IO-Link interface that makes this intelligence available with minimal effort for different communication structures.
Control and maintenance via smartphone
The IO-Link interface can also become a data transfer station even if the wiring and system architecture do not provide data exchange right down to the lowest field level or the sensor is physically inaccessible. Pepperl + Fuchs has the system for such cases "
Smart bridge
"Developed. It consists of an adapter for an IO-Link interface and the Smart Bridge app, which is installed on mobile devices such as smartphones or tablets. The adapter takes data and parameters from the sensor, the app visualizes them and allows local access to the field device.
SmartBridge can thus be used as a digital screwdriver for the commissioning and maintenance of field devices. At the same time, as a universally applicable bridging technology for cyber-physical systems, it can enable interaction with the field level, as well as connect to IP structures and thus make the device comprehensively communicable. As a result, sensor data encapsulated at the field level for higher-level levels, such as the Management Execution System, are now available. Even with this technology, after thorough analysis, IO-Link has proved to be the optimum digital communication protocol, which is also supported by all well-known sensor manufacturers.
Comprehensive communication and information
In summary, Industry 4.0 relies on extensive communication and on detailed and differentiated information, especially at the field level. This requires intelligent sensors that can pass on their wealth of data unhindered (4.0 sensor technology). At the same time, controlling access - centralized or decentralized - at the field level must be as easy and consistent as possible. IO-Link has proved to be the ideal interface in many ways in practice.
Hannover Messe Statement on Sensor Technology 4.0

The author Benedikt Rauscher is Development Group Leader, Industrial Vision Sensors, Factory Automation Division at Pepperl + Fuchs GmbH in Mannheim.
---
Another contribution of the manufacturer
This e-mail address is being protected from spambots To display JavaScript must be turned on!