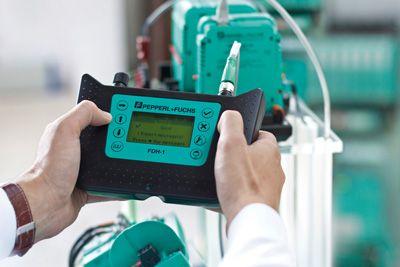 technical articles
Quality assurance of fieldbus installations will be realized with the new "Field Connex "Fieldbus Diagnostic Handheld (FDH-1) of Pepperl + Fuchs even easier. Whether Quick Check mode or highly specialized features for experts: The FDH-1 is a universal tool for convenient fieldbus diagnostics in process automation. It makes fieldbus infrastructure even easier to install and handle.
Product Marketing Manager Andreas Hennecke demonstrates how the handheld FDH-1 works
So the handheld can be used in Quick Check mode easily and without special knowledge. It is connected at any point in the segment and the fieldbus physics check is started with a single push of a button. If the quality of the installation is optimal, the handheld reports "no error". In the case of deviations, however, the device displays "maintenance requirement" or "out of specification". These messages comply with the Namur recommendation 107, which is established as the standard in the process industry.
The integrated expert is always there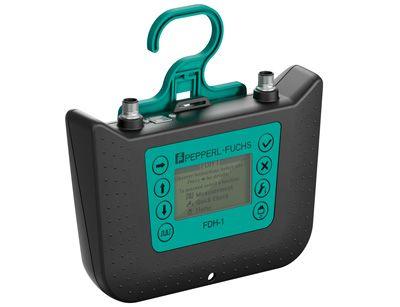 The determined measured values ​​are interpreted by the integrated expert system of the FDH-1. It detects if there is a mistake and where to find it. It also diagnoses what the error is and explains how to fix it. This means that even users with no previous experience can easily guarantee the quality of the fieldbus infrastructure.
In addition to the current status of the fieldbus infrastructure, the FDH-1 also shows how fault-resistant the installation behaves during the failure margin test. To do this, the handheld simulates errors that can occur in the field, such as increasing noise or decreasing signal levels. This allows the communication of the individual field devices or the entire segment to be checked. This quality test is also easily retrievable at the push of a button and provides certainty regarding the stability of the fieldbus installation.
The system will be tested as installed
Another key benefit of the new FDH-1 is that it checks the entire system exactly as it is installed. To do this, the installer clamps the FDH-1 to the wiring with test clips or test plugs without having to change them. The risk of error is thus minimized significantly. Not only does the unit provide more security in fieldbus diagnostics, it also saves time and money, as it can be inspected during ongoing operation if a fault is suspected. This also applies to potentially explosive areas. The FDH-1 is allowed to operate in zone 1 while the circuit is allowed to run in zone 0.
The FDH-1 covers the full range of fieldbus diagnostics thanks to a host of innovative features: from the quick check mode for the installer to the integrated oscilloscope for the fieldbus expert.
Picture above: Portable FDH-1 for fast monitoring and diagnosis of fieldbus physics
The author Andreas Hennecke is Product Marketing Manager Business Unit Process Automation at Pepperl + Fuchs GmbH, Mannheim.
---
developmentsocut TV - Statement
Another contribution of the manufacturer
This e-mail address is being protected from spambots To display JavaScript must be turned on!