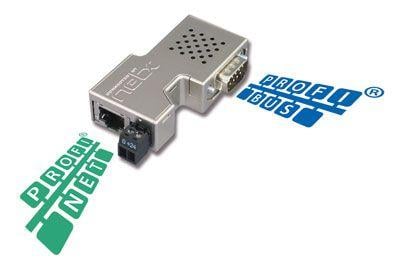 technical articles
Profinet is increasingly becoming the standard in factory and process automation. But today not all field devices have the necessary interface. With his "Netlink proxy"Provides Hilscher however, a solution with which even existing Profibus field devices can easily be integrated into the Profinet world.
As an open Industrial Ethernet standard, Profinet offers a whole range of decisive advantages. It uses TCP / IP and relies on common IT standards. The Ethernet-based system is not only real-time capable. It also allows the direct integration of fieldbus systems. In this way, for example, from the field device via the control level up to the production control, a consistently transparent Ethernet infrastructure can be realized.
There are also a number of practical advantages. For example, at Profinet you no longer have to worry about annoying things like address switches. You do not need terminators anymore. And you can specifically adapt the network topology to existing conditions and requirements. Profinet also supports the mixed use of star, line and ring structures. Features that add up to considerable time savings during commissioning. A noticeably higher performance in daily operation is included.
Transparent communication across all levels
It is therefore understandable that more and more companies at the field level are leaving the conventional Profibus and instead relying on Profinet for updating or reinstalling their automation system. The advantages associated with this are of particular interest to those branches of industry where complete quality assurance is required and the consistent documentation of every single production step is required. A claim that today not only applies to the production of foodstuffs and pharmaceutical products but increasingly also determines the worldwide production of automobiles. The automotive sector in particular has developed a high standard in terms of quality assurance and today uses seamless process data documentation that covers the entire supply chain and ranges from the development of each individual component to its final assembly.
In practice, such quality assurance processes are managed primarily at the control system level, with the underlying control level providing the required process data. The resulting quality data is then archived in special quality databases, where they often remain available for years. So it's an ongoing communication process that runs in real time and, of course, is much more transparent when using the same communication system across all levels.
Current interface problem
Although Profinet is well on the way to becoming a new standard in automation technology. But this development is not supported equally by every manufacturer. As a result, there are still countless field devices that still only have a Profibus interface. In particular, the manufacturers of highly specialized field devices, which tend to be sold in smaller quantities, often shy away from the relatively high development costs that an upgrade to Profinet entails. This also explains why there are numerous measuring, coding and detection devices that are not yet available in a Profinet version.
When it comes to modernizing an existing production facility and switching to Profinet at the same time, there are also numerous process steps in every industry that have worked well for many years and are running smoothly. For obvious reasons, plant operators are therefore afraid of a fundamental change and prefer to leave this with the already existing combination of field device and control system.
The result is that even with Profinet system environments, one repeatedly encounters situations in which only a single field device has its own Profibus line installed and an appropriate controller has been installed. Above all, it is an immense amount of effort that actually demands to find a smarter solution.
From Profibus to Profinet
Simply switching from Profibus to Profinet is what Hilscher offers with its migration technology. As a long-standing specialist for communication solutions in the field of automation technology, the company based in Hattersheim in the Rhine-Neckar region has developed the Netlink Proxy, which makes it incredibly easy to integrate conventional Profibus devices seamlessly into a Profinet environment. The small adapter plug is an intelligent converter that can integrate any Profibus slave into a Profinet network within a few minutes. Elaborate installation is not required. Rather, it is simply plugged into the Profibus-DP interface of the field device and connected to the Profinet network via an RJ45 socket. Due to the short transmission path on the Profibus, even the use of a bus terminating resistor can be eliminated. The supply voltage for the Netlink Proxy is picked up by the slave and routed to the Combicon connector.
Compared to the Profinet, the Netlink behaves as an ordinary I / O device. This means that the process data of the slave are mapped as a module in the corresponding Profinet slot / subslot according to the guidelines of the PI user organization. Commissioning is almost as easy as the mechanical connection of the Netlink Proxy. All you have to do is connect a notebook to the Profinet port of the adapter or any other switch. The configuration then takes place via the graphical user interface of the FDT / DTM based planning, configuration and diagnostic tool Sycon.net.
Together with the GSD file of the slave, the information for its identification is determined via a scan function. Once the configuration is complete and the I / O process data length has been set, Sycon.net automatically converts the parameters into a standard GSDML file that can be easily imported into any Profinet controller configuration tool for commissioning.
A question of investment protection
For the plant operator, the properties mentioned make the Netlink proxy an interesting solution from the point of view of investment protection. After all, it is a considerable expense to completely replace the existing base of field devices with Profinet-compatible models. With the adapter, these field devices, which have often been tried and tested for many years, can be retained without having to forego the consistently transparent data exchange via Profinet.
A sensible strategy is to exchange a Profbus field device for a Profibus model only if it has to be replaced anyway due to a technical defect, for example. Or you just continue to work with the existing device until the manufacturer can provide a Profinet variant. Interesting in this case is the gateway "Nettap", the big brother of the proxy plug, which is not used on the field device itself but in the control cabinet on the DIN rail. It integrates a complete Profibus line in Profinet for up to 125 DP slaves simultaneously.
Cost-saving interim solution
But not only plant operators benefit from this simple and cost-effective solution. Field device manufacturers are also opening up interesting opportunities. Particularly highly specialized Profibus devices are of interest to a limited target group can be made with the Netlink proxy quickly and without significant development effort fit for the Profinet world.
---
Another contribution of the manufacturer
product Finder
Workshop
This e-mail address is being protected from spambots To display JavaScript must be turned on!