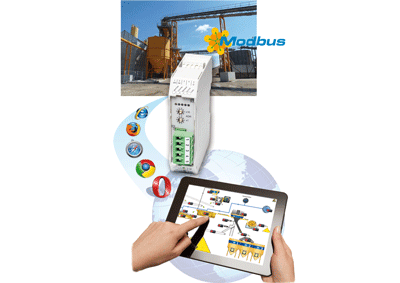 About "Net Scada Modbus" by
Hilscher
Automated systems can be monitored and controlled with conventional web browsers. By means of a free browser installed on mobile phones, tablets or computers, the user is able to access his personal web application at any time and from anywhere. The Net Scada Modbus connects to the automation system via the simple, serial Modbus, a protocol that supports millions of installed field devices.
Video for the Quick Start Guide
Whether Siemens, Allen Bradley, Yokogawa, GE or ABB: Modbus provides direct access to all control systems. Simplicity without programming knowledge characterizes the handling of the Net Scada Modbus. With the intuitive Builder tool, ready-made control and visualization elements can be dragged and dropped onto the display.
Values ​​of system variables dynamize the elements and allow for value display, scaling, motion, rotation and much more. You can use your own graphics and combine them with standard functions such as lines, rectangles and circles. This way, an individual and appealing design can be created in just a few minutes. The Quick Start Guide shows how easy it is to use the Net Scada Modbus.
---
Another contribution of the manufacturer
This e-mail address is being protected from spambots To display JavaScript must be turned on!