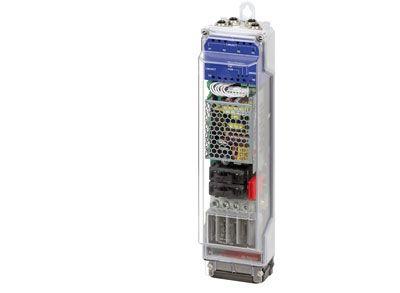 EKS angel makes with his new version of the Outdoor fiber optic cabling system "PE-Light"The networking of IP-capable devices with gigabit speed and high-power PoE possible. The system can be mounted in metal light poles. The centerpiece is a managed switch that can be managed via a web-based user interface.
It has four electrical ports, each with Gigabit Ethernet (10 / 100 / 1000 BASE-T) and high-power PoE with an output power of max. 60 W as well as two optical Gigabit uplinks (1000 BASE-SX / LX) for single or multimode fibers. A variant with an uplink will be available in a few months. As a result, up to four IP-capable terminals can be connected to an Ethernet network over distances of up to 10 km. Examples include digital traffic displays, parking systems, security cameras, weather stations or access points, with which, for example, WLAN hotspots can be connected.
Other components of the cabling system housed in a compact IP42 enclosure include a splice tray, power supply, fuses, and terminals for connecting the utility line. Since this system is not fixed like classic solutions in a weather protection box at the top of the light poles but behind the door opening, it can be comparatively easy to install and maintain. In addition, the sensitive technology is safe from deliberate damage.
The outdoor fiber optic cabling system is suitable for all grounded metal light poles according to DIN EN 40-5 and DIN 49778 as well as fire protection class V-1 or better. The 82x369x84 mm large housing is attached with hooks in the mast. It is made of gray, durable polycarbonate (PC GF 6-7) and has a transparent cover. Cable cross-sections from 1,5 to 16 mm² can be connected to the terminals for the supply line. To pass data and voltage from one system to the next, the terminals have an input and an output.
The four electrical ports of the managed switch have x-coded M12 ports and the optical uplink interfaces for LC plugs. Because matching pigtails are included, no patch cords are required. The supply voltage is 230 VAC with a mains frequency of 50 Hz / 60 Hz, the power consumption max. 140 W and the potential separation 2,5 kV (overvoltage category II). The electrical ports that comply with the IEEE standards 802.3af (class 1 to 3, type 1), 802.3at (class 4, type 2) and 802.3bt (class 1 to 6, type 3) each provide a high-power PoE Output power of up to 60 W over four pairs of wires ready. Total PoE power is limited to 120 W.
The outdoor cabling system can be used in a temperature range of -30 ° to + 65 ° C and a relative humidity of 5 to 95% rHD (non-condensing). It also fulfills the EMC requirements according to DIN EN 55032: 2016-02 - Class A and DIN EN 61000-6-2: 2006-03.
---
This e-mail address is being protected from spambots To display JavaScript must be turned on!
More news from EKS Engel
EKS Engel FOS GmbH & Co. KG, Wenden, and Etic Telecom GmbH, Baden-Baden will work together as part of a sales partnership from 2020. Her focus is on holistic Local Aea Network, short LAN and Wide Area Network, short WAN solutions. The products of the two companies complement each other perfectly to offer a common portfolio of LANs and WANs. They are used in factory automation and process automation as well as in the energy sector and transportation.

Light + Building Hall 9.1, Stand A87 EKS Engel shows a new Industrial Ethernet switch e-light-1100-4AC version 16TX / 1FX and 8TX / 1FX. The Gigabit Switch was developed for direct operation with 230 VAC mains voltage. The two versions are thus suitable for. B. for economical solutions for networking electricity meters in households. Unlike classic industrial devices for a 24/48 VDC power supply, the Gigabit Switch does not require any additional voltage converters.

Interview with Christian Gieseler Head of Development, EKS Engel CS GmbH + Co. KG, Wenden

download video

SPS Hall 9, Stand 401 EKS Engel presents the new managed gigabit switch "E-Light-4G-M", which was developed especially for industrial and building automation, intelligent transport systems and smart city applications. Since it is only 30 mm wide, this switch, which supports Profinet and is prepared for TSN, enables a high packing density in the control cabinet and thus reduces operating costs.

With its new version of the "PE-Light" outdoor fiber optic cabling system, EKS Engel enables the networking of IP-compatible devices with gigabit speed and high-power PoE. The system can be installed in metal light poles. The centerpiece is a managed switch that can be managed via a web-based user interface.

Jürgen Stallbommer took over as Head of Marketing from EKS Engel on April 1, 2019. He succeeds Julia Gieseler, who has gone on maternity leave. The 49-year-old, who has many years of experience in the IT industry, reports directly to the management.

SPS IPC Drives Hall 9, Stand 401 EKS Engel presents the compact "E-light 4G" family. It consists of four robust Gigabit switches that support Gigabit Ethernet and are only 30 mm wide. In addition to a device with eight electrical ports (10/100/1000 BASE-TX), three versions with additional optical ports (1000 BASE-FX) are offered SFP modules (Small Form-factor Pluggable) are available.

EKS Engel FOS GmbH & Co. KG has strengthened its sales team with Torsten Schleiwies (picture). The 45-year-old, who has been working in the IT industry since 1992, is responsible for project business in the Northern sales region as Key Account Manager.

Security Hall 6, Stand G90 EKS Engel shows the new outdoor cabling system "Pe-light". It can be used to connect IP-capable end devices such as surveillance cameras, WLAN access points or digital traffic displays via single or multimode fibers over distances of up to 30 km to Ethernet networks.
load More halt SHIFT to load everything load all