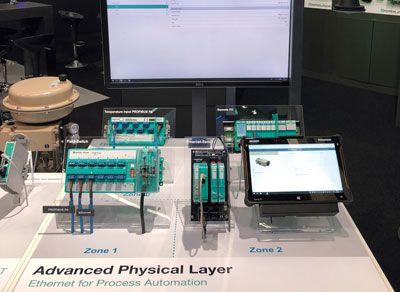 Hannover Messe Hall 9, Stand D76
"Ethernet for each field device" promulgated Pepperl + Fuchs on the trade press days in Karlsruhe. At the last Namur Annual General Meeting, this vision was clearly communicated by the users. It points the way to Industrie 4.0 in the field of process automation, as a field device with Ethernet connection enables seamless integration without protocol converter from the cloud to the hazardous area, Zone 0.
Michael Kessler, Executive Vice President of Components + Technology, Pepperl + Fuchs, believes that the time is ripe for now Ethernet APL and has the vision that all field devices in process automation will be Ethernet-based in the future. The innovative physical layer is identical for all protocols and thus openly designed. For the first time, it will enable the use of modern Ethernet technologies in the harsh environmental conditions of process plants. In the APL project, the leading associations Fieldcomm Group, ODVA and Profibus and Profinet International as well as eleven automation manufacturers, including Pepperl + Fuchs, are working together to develop it.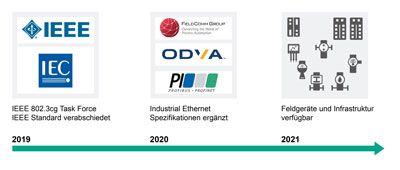 The new IEEE standard, chapter 802.3cg is available as a stable draft. Insiders expect a release before the end of the year 2019. This IEEE standard defines the communication of 10 Mbit / s, full duplex - three hundred times faster than previous technologies - over a two-wire line including power supply. The cable length may be up to 1000 m.
The working groups attach particular importance to defining only one common standard for Ethernet in the field of the process plant. This concerns compatibility in all aspects: from cables and connections to power supply to explosion protection.
Through reflection and discussion with end users, the working groups create concepts that ensure ease of use and plug-and-play interoperability. This includes certifications of the individual devices and the definition of profiles. In the context of Ethernet APL, evidence of intrinsic safety similar to Fisco emerges, which users greatly appreciate for its simplicity. Currently a working group is founded to supplement the associated IEC standard IEC60079. Through their active participation in the committees, the experts from Pepperl + Fuchs support standardization. In-house R & D activities lay the foundations for switches and network infrastructure in the field of process equipment.
Statement by Michael Kessler, Vice President of Components + Technology PA
---
Customer magazine Amplify This e-mail address is being protected from spambots To display JavaScript must be turned on!
Further contributions from Pepperl + Fuchs
Hannover Messe Fachartikel Pepperl+Fuchs, Neoception und Bosch Connected Industries (BCI) haben in einem gemeinsamen Projekt die Prozesse zur Versorgung und Entnahme von Kanban Regalen durchgängig digitalisiert und automatisiert. Neben seiner Automatisierungs-Expertise brachte Pepperl+Fuchs die erforderliche Sensorik in das Projekt mit ein. Besondere eine neuentwickelte, tastende Sensorleiste spielt in dieser Anwendung eine große Rolle. Neoception zeichnete für die Software-Schnittstelle zu einer von BCI entwickelten Industrie 4.0 Anwendung IES verantwortlich. Diese koordiniert, steuert, überwacht und visualisiert das Warenmanagement des Kanban Regals und integriert die Lösung als ganzheitliches System in ERP-Umgebungen.

The Pepperl + Fuchs brand Ecom wins the Hazardex Award 2020 in the category PPTex Innovation (Personal Protection Technologies for potentially explosive areas). The award particularly applies to explosion-proof end devices and comprehensive solutions that Ecom has developed especially for use in harsh environments. Employees receive maximum security and ease of use through the use of these devices.

Functional safety is an important topic in industrial automation, to which the SIL Roadshow has been dedicated for years. A consortium of experts from the companies Ramsys, Pepperl + Fuchs, Samson, Hima, Endress + Hauser and TÜV SÜD Industrie Service GmbH has set up a new format with the Functional Safety Workout 2020.

Hannover Messe Hall 17, Stand D34 At the initiative of Trumpf, around 2020 industrial companies, including Pepperl + Fuchs, will be presenting the new "Omlox" location technology standard at the Hannover Messe 60. Using the new standard, various localization technologies can be linked together. Examples are ultra-wideband (UWB), RFID, 5G or GPS. The companies are responding to the increasing use of location solutions in industrial production.

Logimat Hall 3, Booth B08 With the level sensor concept "Wilsen.sonic.level" from Pepperl + Fuchs, the level of liquids and bulk goods in containers, tanks or silos can be monitored remotely with the help of the Internet. The IoT sensor has an integrated ultrasonic measurement for measuring fill levels, fill and level. These measured values ​​are recorded at regular intervals and sent to the Internet together with the current geoposition. The autonomously working radio sensor is operated by battery and thus enables measurements in mobile containers.

Logimat Hall 3, Booth B08 User report Pepperl + Fuchs has developed a customer-specific 2D lidar sensor for a more flexible transport shuttle based on the specially developed Pulse Range Technology in close partnership with Montratec. This allows a distinction to be made between permanently installed track sections such as tunnels or curves. This was not possible before and not easy either, as this user report shows:

SPS Hall 7A, Stand 330 Pepperl + Fuchs is the first company to offer IO-Link Masters with an OPC UA interface, thus enabling the path to seamless, transparent and seamless communication from the lowest field level to the cloud.

SPS Hall 7A, Booth 330 The Pepperl + Fuchs brand Ecom presents the new generation of its intrinsically safe 4G / LTE Android smartphone series Smart-Ex. With a large 12,7 cm (5 ") display and powerful features, good ergonomics and an optimized accessory concept, the completely newly developed Smart-Ex 02 is the most advanced explosion-proof smartphone for Zone 1/21 and Div. 1.

FMB Hall 20, Stand B22 Pepperl + Fuchs is focusing on the expansion of the IO-Link portfolio: For applications with restricted installation conditions, the IO-Link Master of the ICE1 series will also be available in a housing that is only 30 mm narrow. Advantages such as multi-protocol, M12 power connector and web server functionality are still available to the user.
load More halt SHIFT to load everything load all