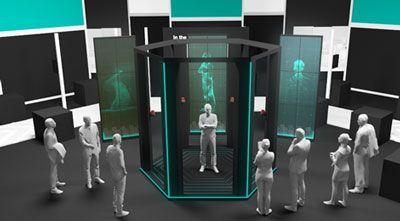 Hannover Messe Hall 9, Stand D76
At Pepperl + Fuchs the visitor meets his digital image and experiences production in lot size 1. He can scan in 3-D and have the image printed on the title page of a trade show magazine. With the help of a digital twin, the production process of a plate bending machine is simulated and the results are used in real operation to optimize for changing properties of different raw materials.
The automation company presents at the fair as part of its "Solutions Parks"Two new exhibits in which integrated processes in the sense of Industrie 4.0 are presented in real time.
With "Connected Customization", production in batch size 1 can be experienced directly: Visitors to the trade fair are scanned three-dimensionally from head to toe by six R2 2000 D-Lidar sensors. The contour data is available in a standard data format in the Neo Neon Cloud from Neoception, a subsidiary of Pepperl + Fuchs, for further processing worldwide. At the show, they are transformed into a graphic and printed on the cover of a personalized trade show magazine, but can also serve as the basis for producing an 3-D image anywhere.
At the "Digital Twin" the visitor configures his desired product at the trade fair stand as a bent sheet metal part. Its data are transferred to a plate bending machine at the Austrian manufacturer Salvagnini, on which the production of this product is started immediately.
In order for this to be possible in batch size 1 without bending tests, the process must be optimally adapted to each material batch, since the bending properties of the metal sheets vary greatly. For this purpose, the behavior of the real sheet metal is analyzed at the beginning of the bending process, compared with a digital twin developed by the Linz Center of Manufacturing (LCM) and parameters for the readjustment, which are transferred to the machine during the bending process.
The machine is equipped with manufacturer's own inductive positioning systems and ultrasonic sensors. For quality control, the contour of the finished product is measured with a light-section sensor of the "Smart Runner Matcher" series.
---
Another contribution of the manufacturer Videos on the topic Contact