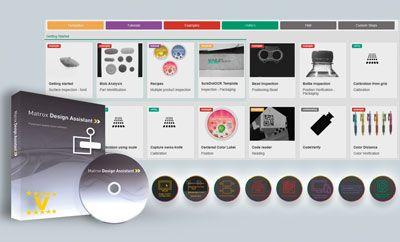 The hardware-independent, flowchart-based Matrox Design Assistant 5 software for image processing (BV) from
Rauscher
Enables users to easily create and distribute inspection and guidance projects. With special attention to user experience and productivity, the "Matrox Design Assistant" version 5 system integrators and machine operators allows the installation of BV systems with less effort and more security.
It shows a more image-centric approach when configuring projects. Measurements take place directly on the image itself instead of in configuration windows. The update also streamlines the flow diagrams by means of specific events and actions so that their logic can be placed in subroutines and the main routine remains clear. In addition, a new ready-to-go interface simplifies the communication between the vision system and the PLC.
"Persistent Recipes" now allow you to examine different, similar parts with only one flow chart. These can be added or modified by the operator of the vision system. A project-specific user interface can now be displayed by any HTML5 browser, which means that not only PCs, but also tablets or smartphones can access the application.
The simplified workflow will not only increase productivity, it will make image processing more accessible for more inspection and guidance applications in the areas of electronic manufacturing, food and beverage production, medical technology, automotive manufacturing, consumer goods production, pharmaceutical industry and semiconductor industry.
Matrox DA 5 now also includes the Matrox "Suredotoct" technology, which makes even difficult dot matrix fonts produced by industrial inkjet printers readable. This new processing step in the flow chart treats distorted and rotated text as well as uneven background and lighting.
---
Another contribution of the manufacturer
This e-mail address is being protected from spambots To display JavaScript must be turned on!