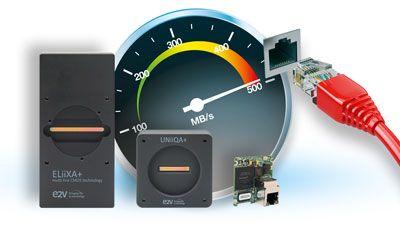 technical articles
GigE Vision is the world of image processing have long become indispensable. However, the 120 MB / s transfer performance of GigE brakes from newer cameras. "NBASE T" of Rauscher increases the power transfer without compression of 1 5 Gbps on Gbps using the same cable and the same software.
Following the launch of GigE Vision in the year 2006, today, following an AIA study on 50,% of all new cameras are equipped with the GigE Vision Interface. Of course, all other camera interfaces have their applications and markets. For a broad range of applications, however, today GigE Vision is preferred. The advantages of the cost-effective interface in terms of cabling, stability, suitability for multi-camera setups, manufacturer-independent standardization and costs are well known.
What 10 has proven to be good and stable worldwide for years, however, is beginning to reveal a certain weakness in new applications today. The transfer performance of approx. 120 MB / s before 10 years was equal to the bandwidth requirements of former sensors. Especially in recent years, however, the sensor development has made great leaps and the trends of the new sensors fuel the bandwidth requirement. More and more resolution, the change from CCD to fast CMOS sensors and an increased occurrence of color or even hyperspectral sensors cause GigE to reach its performance limit more and more often. Current CMOS sensors from Sony and Onsemi are in areas of 400 MB / s and are throttled accordingly by GigE Vision.
Accelerate GigE Vision
In order to not be slowed down by the limited transfer performance of 120 MB / s and still use GigE Vision with its advantages, some camera manufacturers have been offering compression technologies for some time now: The image data is compressed in the camera and transmitted as encoded content via standard GigE. According to the manufacturers, factor 2 to 4 can be used to press more data onto GigE's 1 Gbps bandwidth. However, this compression is always dependent on the image content and on the side of the PC of course, a software decompression must take place before the image analysis.
In order to close the bandwidth gap between GigE and the current sensors, without having to compress image data and without having to change to a new interface, a standard called Nbase-T comes into play.
Nbase-T is an Ethernet standard that works on the same physical layer as GigE, but is accelerated by the factor 2.5 or 5.0. So data is transmitted via the same RJ45 connector, over existing CAT5e / CAT6 cabling up to 100 m length uncompressed with the unchanged GigE Vision protocol up to 500 MB / s.
Who is behind Nbase-T?
Of course, the Nbase-T standard is not driven by the imaging industry, but by a consortium of more than 60 companies, including prominent names such as Intel, Cisco, Xilinx, Marvell, Qualcom. The need for higher transmission rates over existing CAT5e / CAT6 cabling is given in the same way in the IT environment by the approximately 700 mm km of copper cables that are laid today in office complexes, research centers, residential areas, etc. After building wireless connections to the next access point with up to 5 Gbps using mobile devices today, they have evolved into 1GBps bottle-necks in the existing network infrastructure. So here is a massive need for a significant increase in bandwidth. However, 10 GigE requires either fiber optic transmission or CAT6a cabling to take full advantage of 100 m. Changing the physical media for 10GigE would cost a tremendous amount of money and costs, so the industry's goal is to significantly increase bandwidth to existing media. Nbase-T is therefore driven by a large industry with a huge target market.
What's in it for the image processor?
One of the huge advantages of the GigE Vision protocol, which is rather invisible in practical application, is the complete independence from the physical Ethernet layer. Because Nbase-T only changes this, GigE Vision 100% can be transparently transferred without software or firmware having to be adapted. A mechanism, which one already uses today, if GigE Vision cameras z. B. merge on a 10 GigE switch or wirelessly transmitted via Wifi.
The advantages are obvious: By using only one Nbase-T transmitter (the camera) and one Nbase-T receiver (the network card), an uncompressed high-speed image transfer can be implemented, which is 100% based on GigE Vision software.
Image processing software can therefore be used exactly as it is today. A Nbase-T network card is reported in the operating system as a standard Ethernet adapter, a Nbase-T camera as a standard Ethernet participant. The entire GigE Vision protocol runs as usual - just with 500 MB / s. All advantages such as long cable runs, distributed systems, Power over Ethernet for power supply, IEEExnumx Precision Time protocol for real-time triggers over the data line, autonegotiation of the transmission speed and even the mixed operation of devices with different speeds or different media (cable / wireless) is still possible ,
Components for camera developers and users
Nbase-T is quickly gaining a foothold in the IT industry and Nbase-T products are standard, such as network cards, switches, PHY devices, protocol analyzers and Ethernet controllers.
There are two product categories specifically for image processing: Pleora as a member of the Nbase-T consortium shows a Nbase-T camera interface for OEMs. Developers of special cameras or other imaging devices such as flat-panel detectors can thus seamlessly integrate the finished Nbase-T interface and thus immediately increase the data throughput to 5 GBps. This Pleora technology is also available as an FPGA IP core if it is to be integrated with 100% on its own hardware.
Also e2v sees the need for more data throughput: The modern line scan cameras of the Eliixa + and Uniiqa + series deliver 2k or 4k resolution in monochrome with up to 140 kHz (> 560 MB / s) or in color with up to 100 kHz. Especially applications with line scan cameras often require high cable lengths and also multi-camera systems are often found. Therefore, the call for network transmission has become increasingly louder for these cameras. However, 10GigE with external CL-10gig fiber optic converters can only be implemented at high cost, or only for 1GigE with a drastic reduction of the line rate. The new models with Nbase-T combine all the advantages: high transfer performance and long cable lengths, while at the same time being able to continue to use existing software without altering any libraries.
Performance quintupled
So Nbase-T is not yet another new interface for the Machine Vision Community. It is a technology from the IT industry, which increases the efficiency of GigE Vision by the factor 5 on existing infrastructure. Without having to re-learn or develop things, users benefit from the high speed in combination with the elegant and inexpensive wiring of a CAT5e / CAT6 cable and the proven GigE Vision protocol.
---
Another contribution of the manufacturer
This e-mail address is being protected from spambots To display JavaScript must be turned on!