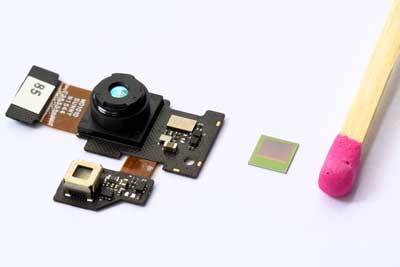 Lenovo brings the Tango Technology at a terminal. Google technology that gives devices a spatial perception, is an exclusive feature of the smartphone "Phab2pro". Based on the time-of-flight principle allows the 3D image sensor chip "Real3" of
Infineon
a three-dimensional image of the environment in real time. He is the only image sensor chip, which meets the requirements of Google.
Thanks to the image sensor chip, the smartphone allows direct access to the so-called augmented reality: Motion tracking reacts to changes in position, depth perception measures the distance of objects, and spatial learning allows the device to recognize once detected locations.
The ability of three-dimensional vision devices will result in a variety of new applications for end users and in the automotive industry. The depth perception and the motion tracking, as Tango devices use them today, can also be used for driver monitoring or for gesture recognition in the vehicle.
The Real3 comes from the Austrian city of Graz. Here, Infineon develops advanced semiconductor solutions for analog and digital signal processing at high data rates in its worldwide competence center. The image sensor chip combines pixel matrix, control circuitry, ADCs, and the high-speed digital interface on a single chip. It was developed together with PMD Technologies, provider of time-of-flight (ToF) technology.
The detection of the environment is based on infrared light. For each pixel, the 3D image sensor chip measures the amount of time the radiated light from the camera to the object and back requires. In addition, each pixel captures the brightness values ​​of the object. Compared to other methods, the ToF technology offers the best spatial resolution and highest robustness - both mechanically and in terms of background light. Nevertheless, it has the lowest power consumption and the smallest dimensions. The camera is thus the smallest 3D camera in the world.
---
Another contribution of the manufacturer
This e-mail address is being protected from spambots To display JavaScript must be turned on!