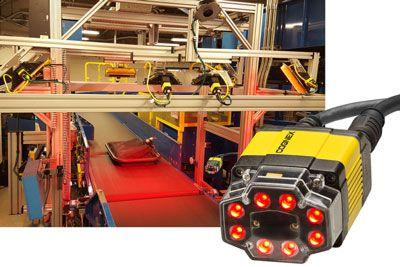 Automatica Hall B5, Booth 504
Cognex today announced its identification solution for baggage handling at airports before the first time overcomes the image-based, automatic
Tag Reader System (ATR)
the limitations of current laser-based baggage ID systems. The technology provides much higher read rates than laser-based systems, while reducing the costs incurred by the manual delivery of lost or late luggage tested.
Baggage handling at an international airport
The ABH-ID solution uses proven, aviation-recognized technology that reads even hard-to-decode codes and offers high read rates at critical junctions such as transfer belts, where baggage labels are often damaged by aircraft loading and unloading.
Previously, the reading of transfer labels was difficult for each piece of luggage due to the damage incurred during the numerous check-in procedures. The identification and tracking system provides the performance benefits of image-based readers at the competitive price of laser-based systems. In field demonstrations on an international transfer line, the image processor was able to increase read rates by up to 15% compared to existing laser readers.
The new solution is particularly important as the International Air Transport Association's new 753 decision, which enters into force in June 2018, requires its member companies to provide evidence of baggage collection and clearance at three points on the baggage route: loading, transfer and arrival , During each handling process of a piece of luggage, the quality and readability of the baggage tag can be affected by smearing, scratching or weathering. The ABH-ID solution has the extraordinary ability to read damaged labels quickly and accurately.
The ABH-ID solution includes the fixed image-based "Dataman" barcode readers. Image-based readers have no moving parts and are therefore virtually maintenance-free, unlike laser scanners whose parts are subject to wear or failure. The solution also includes the patent-pending "Xpand" technology, which is flexible enough to fit into even the smallest of spaces. It offers better redundancy and a larger field of view. This makes installation easier and reduces the overall cost of the system.
---
Another contribution of the manufacturer
This e-mail address is being protected from spambots To display JavaScript must be turned on!