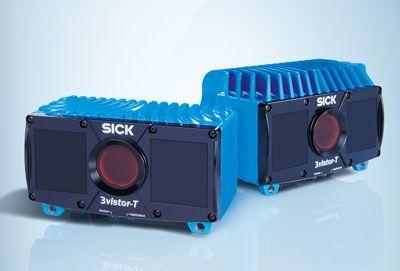 Thanks to 3D snapshot technology, the
3D Vision Sensors "3vistor-T"
from Sick full flexibility for indoor use. Based on the time of flight measurement, it provides depth information in real time for every pixel, even for stationary applications. In this case, either all 3D raw data or already preprocessed, application-relevant information is transmitted in an application-specific manner. Thanks to powerful visualization tools and reliable 3D information, the sensors are suitable for intralogistics, robotics or industrial vehicles.
There are two different product variants: The "3vistor-T CX" is an 3D base camera that delivers high-quality 3D point clouds. The "3vistor-T AG" version is an 3D smart camera. Depending on what is needed, it provides both complete and reduced 3D data. More than 25.000 distance and intensity values ​​are delivered in one shot. As a result, no operator is required and 3D information is also available for stationary applications. In addition, the sensor provides a programming interface via which the 3D data can be transmitted to external PCs and evaluated there
With 3D Time of Flight technology, 3vistor-T delivers real-time spatial and depth information to any image, even with still objects. Depending on the variant, the pure point cloud, correspondingly reduced image data or image data are output. This technology measures the transit time of a light signal between the object and the target object for each point of the image. Once the arrival time of the reflected light signal is known, the distance (the third dimension) between the object and the target object can be calculated. As a result, the sensors can be used flexibly: as preconfigured variants for driverless transport vehicles or as a powerful 3D camera for individual programming. 3vistor-T is quickly installed, ready for immediate use and intuitive to use.
---
Another contribution of the manufacturer
This e-mail address is being protected from spambots To display JavaScript must be turned on!