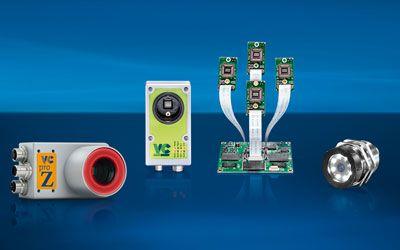 Vision Components can now come up for all industrial image processing tasks even with the ARM-based smart cameras of the Z-series with user-friendly standard software:
Halcon Embedded
and much more with its integrated development environment and comprehensive library for blob analysis, morphology, matching, measuring, identification has been successfully ported to the new camera models.
The application development is conveniently carried out on the PC and can then be transferred to the Smart Cameras from Vision Components running a Linux operating system. On the hardware side, users have a large number of sensors, processors and interfaces at their disposal.
The current "Halcon" version 12.0.1 allows significant speed increases and offers many new features that make it easier for application developers. The optical character recognition (OCR) is even more reliable and works in many cases without the time-consuming customization of parameters: The software recognizes characters regardless of size and is very well able, even under difficult conditions, for example, distorted presentation, text to be distinguished from the background. Other highlights include queues for data exchange between threads as well as a whole range of new calculation functions for weld seam monitoring. Additional software interfaces facilitate the further processing of data.
Halcon tuples or iconic variables can now be checked directly in Visual Studio. In "H Develop" vector variables can now be processed and tuples displayed as 1D or 2D plots from the variable window. In code reading applications, edges outside the barcode to be read are more easily ignored. EAN-13 / UPC-A barcodes are more reliably detected on blurry or blurry shots, and with 2 / 5 interleaved codes, the barcode reader is more tolerant of widening or narrowing code bars or overexposure.
---
Another contribution of the manufacturer
This e-mail address is being protected from spambots To display JavaScript must be turned on!