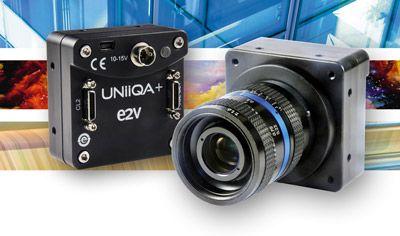 Laser World of Photonics Hall A2, Machine Vision Pavilion
E2V presents the newly developed line camera "Uniiqa +" in monochrome and color. The focus of development was on cost savings and speed advantage in the medium resolution range. The
Uniiqa + Essential and Uniiqa + High Speed
cover the 512, 1024 and 2048 resolutions with 10 μm as well as 4096 pixels with 5 μm pixel size. For resolutions up to 2048 pixels, the 10 μm pixels correspond exactly to the size that was frequently used in the CCD predecessor technology.
Thus, in these applications, the optical setup can remain completely or largely unchanged. With the 4k 5 μm sensors even a compact C-mount optics with a large image circle can be used, which contributes to low overall system costs. Up to 40 kHz (Essential) or 100 kHz (High-Speed) line rates of the cameras double or triple the maximum speed of today's CCD line scan cameras.
At speeds up to 100 kHz, the CMOS sensor offers an 100% Fill factor high sensitivity down to the near-infrared range, signal-to-noise ratio of 68 dB and very good linearity. He delivers clear, high-contrast and low-noise images. Due to the highly integrated CMOS design, all Uniiqa + cameras with only 150 g weight and dimensions of 60 x 60 mm are very compact, the power consumption is only 3,5 W. Due to the low power loss, the camera can operate at ambient temperatures up to 55 ° C and with power over-Camera Link (PoCL) are supplied.
The model policy aims at a simple, simple and cost-effective logistics: Warehousing, forecasting and the spare parts issue is greatly simplified, since there is an all-in-one variant for Uniiqa +. The UNiiQA + Versatile Camera can be configured by software in 4096, 2048, 1024 and 512 pixel resolution, without any restrictions on the read speed and more data than necessary from the camera to transfer. For the first time, a line scan camera covers a diverse range of applications.
---
Another contribution of the manufacturer
This e-mail address is being protected from spambots To display JavaScript must be turned on!