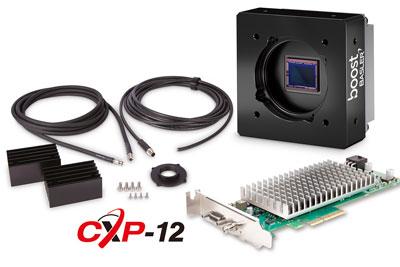 With the Basle boost expands Basler (Sales Rauscher) portfolio includes cameras with the Coaxpress 2.0 standard and advanced CMOS sensor technology. The "Boost Bundle" consists of a Boost Camera, the matching CXP-12 Interface Card and the CXP-12 Accessory Starter Kit for a time- and cost-saving evaluation phase.
First evaluation kits for testing the Boost camera with CXP-12 interface for high resolutions and bandwidths are now available. The Boost cameras deliver optimal image quality with either the Sony IMX253 sensor with 12 megapixel resolution and 68 fps frame rate or with the IMX255 sensor with 9 Megapixel and 93 fps. With compact dimensions of 80 x 80 x 45 mm, the camera includes a digital input as well as 2 Gpio ports at a max. Cable length of 40 m.
Combination with boost camera
The CXP-12 Interface Card included with the CXP-12 Evaluation Kit has been designed specifically for use with the Boost Camera. The interface card connects the camera via a CXP-12 channel for smooth image data transfer. Both components can be controlled by the Pylon Camera Software Suite and form an optimal unit for time- and cost-saving evaluation and integration into the application.

The CXP-12 Starter Kit includes a CXP data cable, two heatsinks for optimal thermal management of the camera outside the vision system, a C-mount lens adapter, and an I / O cable for external triggering of the camera.
---
Another contribution of the manufacturer This e-mail address is being protected from spambots To display JavaScript must be turned on!
More news from image processing
Control machine vision and the solutions of industrial image processing penetrate ever further into industrial areas, where the best image quality, highest resolution and high speeds are required. SVS-Vistek is introducing the new GigE Vision industrial camera SHR461CX from the high-resolution SHR series. With over 100 megapixels, the GigE camera offers an enormous dynamic range of 82 dB. The new rolling shutter sensor IMX461 from Sony also has a resolution of 14.192 x 10.640 pixels and therefore an outstanding image quality.

Basler (Sales Rauscher) is expanding its embedded vision offering with two camera modules that are matched to NXP's i.MX 8 processors. With the combination of Basler's camera know-how and the powerful processors from NXP, ideal embedded vision solutions can be implemented for industrial applications.

Qioptiq is expanding its quartz lenses "Linos F-Theta Ronar" with a new telecentric version for the green spectrum (515 - 540 nm). The Excelitas subsidiary developed this laser lens especially for micro material processing. Other fields of application are laser structuring as well as laser welding and cutting.

With the "Rapixo CXP", Matrox Imaging (Sales Rauscher) has developed a new frame grabber generation for version 2.0 of the Coaxpress (CXP) interface standard. With it - also downward compatible to Coaxpress 1.0 / 1.1 - data rates of up to 6,25 Gbit / s (CXP-6) or up to 12,5 Gbit / s (CXP-12) can be achieved.

SPS Hall 4A, Booth 126 When measuring temperatures in processes using lasers, the infrared camera must be insensitive to the stray light from the laser. The new "PI 08M" from Optris is ideally suited for such applications because it has a very narrow-band spectral sensitivity at 800 nm.

With the Basler Boost, Basler (Sales Rauscher) is expanding its portfolio with cameras with the Coaxpress 2.0 standard and modern CMOS sensor technology. The "Boost Bundle" consists of a Boost camera, the matching CXP-12 interface card and the CXP-12 accessory starter kit for a time-saving and cost-saving evaluation phase.

The "NIT Widy Sens SWIR" cameras with dual-mode "InGaAs" sensors from Rauscher offer a compromise between high sensitivity due to linear response and high dynamics at 120 dB with logarithmic response. 230 frames / s and synchronous image acquisition in the ns range are further features of the camera.

The Basler "Blaze" 3D camera with GigE interface and VGA resolution (sales by Rauscher) is suitable for determining the position, position and volume of objects and for detecting obstacles thanks to Sony Depthsense ToF technology. The industrial 3D camera works on the basis of the time-of-flight principle.

The "Scenesan Pro" real-time stereo vision system from Nerian (sales Rauscher) can now also evaluate input images with a resolution of up to 6 megapixels. The dedicated image processing system calculates depth information from stereoscopic image data.
load More halt SHIFT to load everything load all