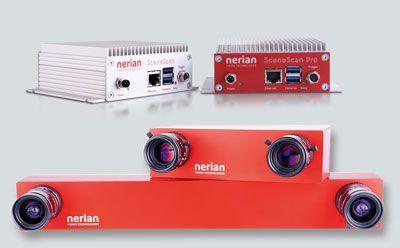 "Scenescan" by Nerian (Sales Rauscher) is a powerful stereo camera for 3D depth perception using stereo vision. In contrast to conventional depth cameras, this passive method does not require any light to be emitted in the visible or invisible spectral range in order to obtain robust measured values.
Equipped with a powerful FPGA and a modern stereo algorithm, Scenescan processes the image data from two cameras and calculates in real time a depth map or 3D point cloud.
The system allows up to 100 images / s and resolutions up to 3 megapixels. Accurate 3D sensing is possible with Scenescan even in harsh conditions such as bright daylight, long distance measurements, overlapping ranges, or even underwater measurements.
Karmin2 is the name of the latest version of the preassembled stereo camera "Karmin" based on two Basler cameras with 1600 x 1200 pixels each. This stereo camera is designed to be easy to use with the Scenescan stereo vision sensor. This combination creates a full-featured 3D depth camera that enables high-accuracy ranging even in bright ambient light and over long distances.
The system is available with stereo base widths of 10 and 25 cm. The 10 cm model is suitable for depth measurements in close range with measurement distances up to 0,5 m. The 25 cm model was developed for depth measurement from a greater distance and allows for greater distances at a better depth resolution. Each version comes with a wide selection of lenses to allow precise field of view matching.
The stereo vision IP core for FPGAs is at the heart of the Scenescan stereo vision sensor. Users can license this IP core to integrate stereo vision capabilities into their own FPGA-based products. The process is as follows: Using stereo echography, the stereo vision IP core initially processes two grayscale images. The images are first rectified in the FPGA to compensate for lens errors and errors in the camera orientation. This is followed by an optimized FPGA-based Stereomatching to obtain a disparity map with subpixel-accurate resolution. To improve the quality of the depth data, various post-processing operations can be applied before the disparity card is output via an AXI4 stream interface.
---
Another contribution of the manufacturer This e-mail address is being protected from spambots To display JavaScript must be turned on!