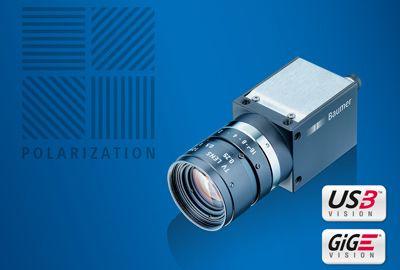 SPS IPC Drives Hall 4A, Booth 335
The new CMOS-based GigE and USB 3.0 Polarization cameras of the CX series by Baumer utilize the polarization properties of light, enabling a variety of new industrial image processing applications such as quality control of glass, carbon fiber fabric (CFRP) or reflective surfaces.
The cameras use Sony's 5 Megapixel Global Shutter Sensor IMX250MZR, which has an additional polarization layer, consisting of four polarizing filters (0 °, 90 °, 45 °, 135 °), at the pixel level. Thus, a recording is sufficient to simultaneously detect polarization degree and angle of the polarized light without filter change. Thanks to the effective interaction between the integrated evaluation algorithm and the Baumer Gapi SDK, only the polarization information is output. Applications can be solved inline and implemented very flexibly, simply and inexpensively.
The CX polarization cameras make visible and evaluable physical material properties that are imperceptible to the human eye. Thanks to the detection of the complete linear state of polarization, for example in the glass industry, during quality assurance during the production of glass articles such as bottles or ampoules, they reliably detect residual mechanical stresses that increase the instability and risk of breakage. The production of carbon fiber fabrics for the automotive or aerospace industry can benefit from the use of the cameras. The low-reflection, low-contrast carbon fibers are highly polarizing, which is why the fiber texture of the fabric, which has a decisive influence on material stability, can be tested efficiently.
By a polarization calibration ex works, an angular resolution of 1 ° is achieved. Thus, the smallest deviations of the fiber direction can be detected. Also in the control of reflective or glossy surfaces such as metal score the new CX cameras. By selecting a polarization direction gloss effects can be effectively reduced to z. For example, to detect scratches better or to be able to read codes safely.
---
Another contribution of the manufacturer Videos about the CX series This e-mail address is being protected from spambots To display JavaScript must be turned on!