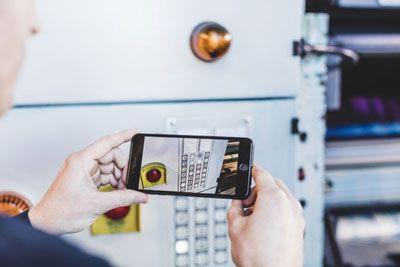 technical articles
Augmented reality technologies are already enriching production and development processes in many places. Corporations such as Toyota, Audi, Bosch and BMW now use AR and VR applications in very different areas. There is not only added value on the production line. The Minebea Mitsumi subsidiary company Minebea Intec uses an AR application in customer support with "Miremote".
What if everyone was an expert? This question sums up the approach behind many of the AR technologies used in the industry. Be it in development, production, maintenance or customer service - in all areas it is possible through AR applications to fetch required expertise or necessary information regardless of location and in real time. On the way to the Factory 4.0, AR and VR concepts will be decisively involved, because they network experts and users worldwide and digitize, mostly cloud-based, valuable know-how.
AR on the production line
For more transparency in the increasingly complex manufacturing processes of many companies, the production support using data glasses can provide. Thanks to AR, for example, a digital image of production lines with integrated fault display can be created. Especially in times when skilled workers are in short supply, experts and technicians no longer have to be cumbersome in case of problems in the production facility, which is always time-consuming and expensive. Fast action can be done in real time, regardless of location, through video communication.
Most systems on the market provide live-image screenshots in which the relevant components and steps to be operated on can be highlighted and explained in detail by the expert. The technician looks over the shoulder of the machine operator and can provide him with instructions and expertise. It is also possible to realize video streaming via QR codes on the corresponding machines, which reduces downtimes and reduces production downtime. Videos are displayed directly in the field of view of the employees.
The next step is logically the meticulous documentation of the failures and the recording of their causes. If patterns can be recognized, we are very close to the ideal "Predictive Maintenance". In the customer audit, companies could definitely score with these automated documentation processes.
Currently this is checking Minebea Mitsumi subsidiary PM DM for the European production site in Košice in Slovakia, the options to be even more flexible in the European market in the future. In Slovakia, drive systems are mainly produced in high volumes for the automotive sector.
AR in customer support
Increasingly, the AR concepts are also turning directly to the end customer. Automobile manufacturers allow extended vehicle views and provide AR-form specifications. Minebea Intec also benefits from the benefits of an innovative service solution. With Miremote, the company provides its customers with an agile and versatile tool that provides direct access to services regardless of location. "The service tool is based on XM Reality-developed augmented reality technology," said Michael Tappe, Global Service Manager at Minebea Intec and continues: "The intuitive tool helps identify and prevent disruptions while reducing the technical availability of assets and increase devices.
Thus, it becomes part of a consistent prevention strategy. The service technician can accompany process steps from his or her location and provide assistance, for example by pointing a finger or through visualized motion sequences. " From operator correction to fault analysis to quick identification of the right spare part, all functions are designed to assist the user in his work and efficiently reduce any downtime.
"After all, nothing is as precious as production time on the production lines of, for example, food or chemical production," explains Michael Tappe. "We expect significant cost savings for our customers". In the Minebea Intec Service Center, the technician sees exactly what is detected by the current smartphone or tablet camera of the customer, can diagnose operator errors or error messages and provide specific assistance. A multitude of innovative features such as hands overlay, finger-pointing as well as additional voice and text communication help. In addition, the technician can show documents and record videos for later review. The intuitive, easy-to-use app, hosted by XM Reality, is downloadable on most mobile devices. All common operating systems like Windows 10 64-bit, Android from 5.1 or IOS from 9.0 support the system.
---
Another contribution of the manufacturer to the newsroom This e-mail address is being protected from spambots To display JavaScript must be turned on!